Meet some of the members of the Women in Water Management in Central Asia and Afghanistan Network.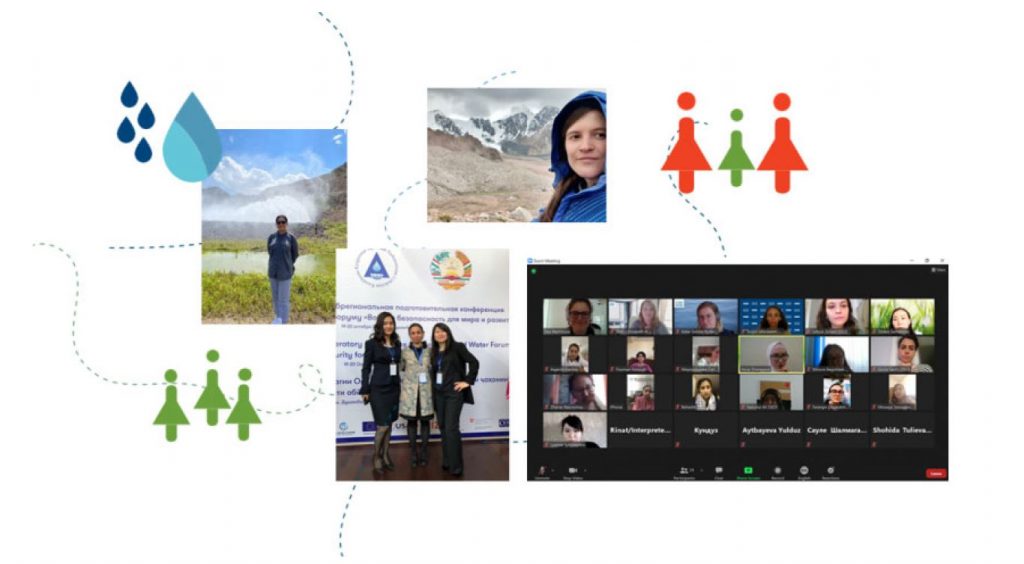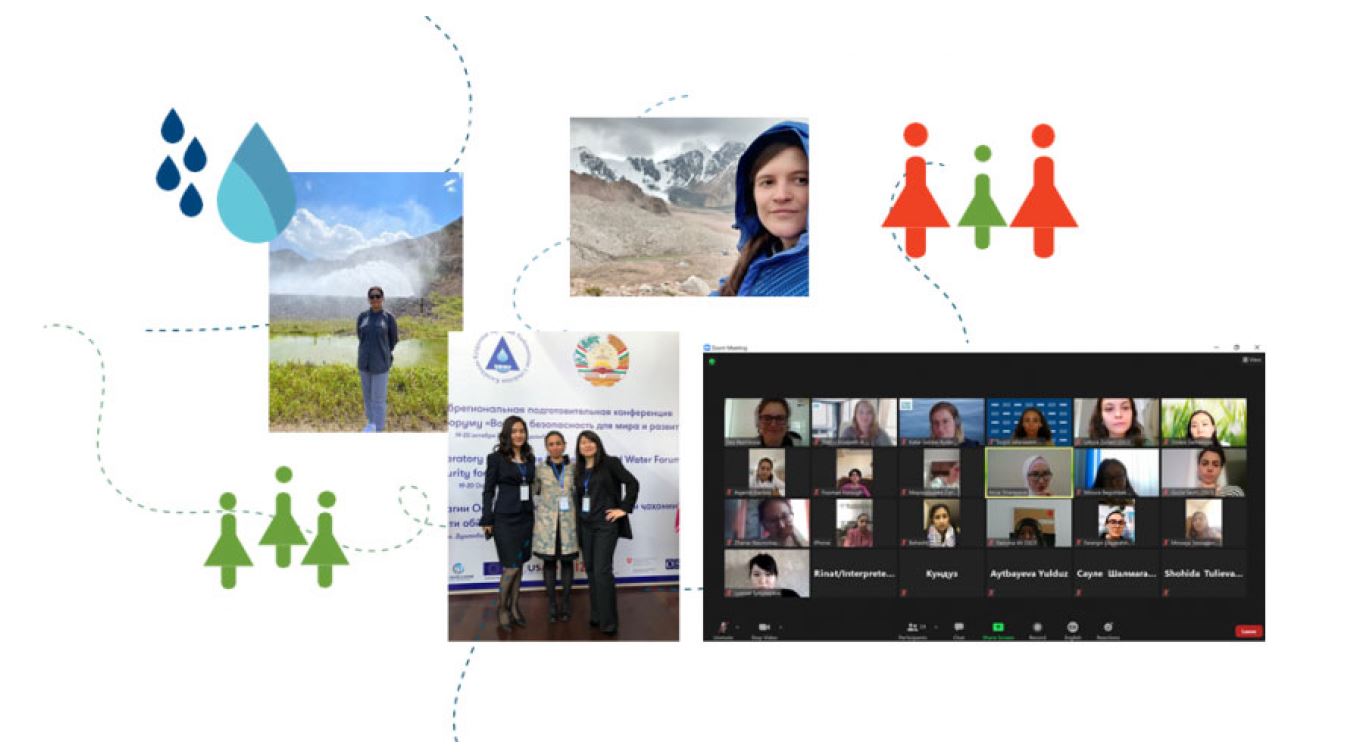 "As a result of being part of this network I was invited recently to be a guest lecturer to Kazakh-German University and now I am looking to apply for a PhD course on water management and gender aspects. "
Network members in alphabetical order: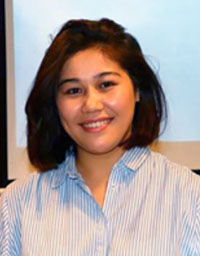 Aigerim Karibay works in the branch "BAC named after D.Kunayev" of RSE Kazvodkhoz. As a matter of fact, the Big Almaty Canal (BAC) is the main enterprise supplying water to agricultural producers in Yenbekshikazakh, Talgar, Iliysk and Zhambyl districts of Almaty region.
Aigerim graduated from the Kazakhstan-German University in Integrated Water Resources Management program with a master's degree as a hydraulic engineer.  She likes swimming and self-development. Ever since she was a little girl, Aigerim has dreamed of becoming professional in demand and prominent in the country.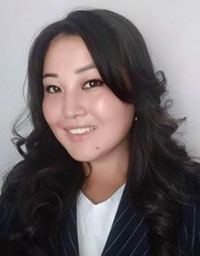 Cholpon Aitakhunova leads Central Asian Youth for Water (CAY4W) in her role of a regional co-coordinator. Through a journey of about 5 years across different sectors (state, civil society, academia) and among various levels (national to global), Cholpon got well-acquainted with climate, water and environmental governance in Kyrgyzstan and Central Asia. Her main focus lies at the intersection of water and climate action through youth empowerment and stakeholder engagement.
Cholpon was involved in organization of First Chu-Talas River Basin Youth Dialogues together with her team at CAY4W, where youth empowerment in water action is at the heart of the network. Cholpon organized the First Youth Climate Change Forum in Kyrgyzstan in 2019, and first LCOY Kyrgyzstan 2021, she served as a COY16 country coordinator in 2021; she is a member of Green Alliance of Kyrgyzstan (former coordinator).
Cholpon holds an MA degree in "Politics and Security. Central Asia" from OSCE Academy in Bishkek.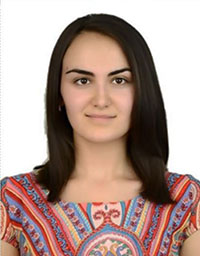 Farangis Ukumatshoeva Akramshoevna has two master's degree in "Technology of energy efficiency and management hydropower engineering" from the Institute of Water Problems, Ecology and Hydropower and in Integrated Water Resources Management from the Kazakh-German University (in progress).
She also has experience of working as a Specialist in Monitoring and Accounting of state water resources in the Project "Water Resources Management Pyandj River Basin" for GBAO, as well as a Junior Research Employee at Pamir Biological Institute under National Academy of Sciences of the Republic of Tajikistan. Farangis Ukumatshoeva is always eager to take part in various scientific conferences, trainings and short-term courses on relative areas related to her specialties and professional activities.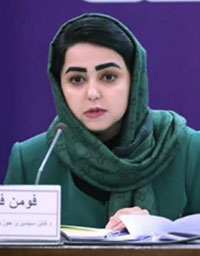 Foman Forough was born in Herat Afghanistan, and graduated as MSc of Hydraulics structure from Ferdowsi University. She was working at the National Water Affairs Regulation Authority (NWARA) as General Director of Kabul River Basin before the Taliban captured Kabul. Essentially, Kabul River basin has 14 provinces where all these areas were unsecured due to Taliban presence. It is the largest basin in Afghanistan and has a dense population. Management of water demand and supply in this basin is too complex, thus needs more hardworking.
Foman has a great experience of working in different positions in NWARA: as acting director of water allocation, dam and river adviser, and Hydraulic structure design specialist. In addition to her major job, Foman Forough had been teaching hydraulic structure at Kateb Private University. Also, she is very proud to be a board member of the Afghanistan Infrastructure Transparency Initiate (COST), which works in the field of transparency in infrastructure projects, access to information, and the clean-up against corruption.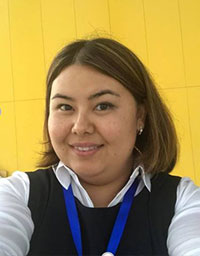 Gulzhan Makhmudova is an Environmental Sustainability Expert at the Regulatory Office for Industrial Safety in the Ministry of Energy and Industry Kyrgyzstan. She claims to be an active and hard-working ecologist with professional experience in Environmental Assessment, Environmental Sustainability, Mining Reclamation, Climate Change Issues, Energy and Water Security, Industrial Safety, Occupational Health, Safety, and Environment Management with more than 10 years of experience in public service management and technical advice. Moreover, with Consulting and Expert experience obtained at WB, UNDP, SRK, EU, Soros Foundation, Alessandro Volta Foundation. Gulzhan Makhmudova also has experience in overseas internships and projects as England Internship for Environmental Sustainability Studies, Japan Internship for sustainability studies, Korea Sustainable Mining Reclamation Program and others.
She has great passion for the environment and her logo is "Go to Green – Save the Planet".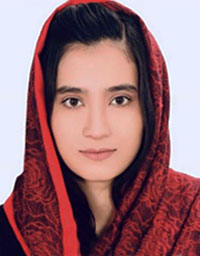 Hadia Saboory used to be an intern at the Ministry of Agriculture, Livestock & Irrigation, and before that she has been working at different places such as AIESEC Afghanistan, Khurasan Academic Association, Afghanistan Builders Association (ABA), Humanitarian Organization for Motivation and Empowerment.
She obtained her Bachelor Degree in Kabul University in 2019. Hadia is very enthusiastic when it comes to various training programmes, she has already participated in courses of public speaking, Women empowerment, leadership and soft skills. And now she is ready to take another step forward in developing her proficiencies and competencies.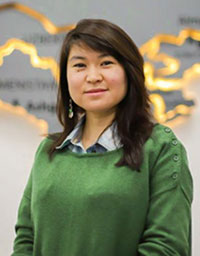 Lyazzat Syrlybayeva graduated with a double master's degree in natural resources management from the University of Padova, Italy and the University of Lisbon, Portugal. She has extensive experience working in the field of landscape architecture, as well as urban and rural forestry. Currently, she is employed as a consultant at the International Secretariat for Water (ISW).
As part of her duties, she is engaged in environmental awareness-raising and capacity-building of the youth – particularly co-leading the "Central Asia Youth for Water" (CAY4W) Network – focusing on the empowerment of young people in the water sector in Central Asia and beyond.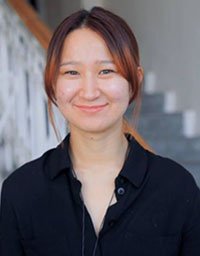 Meerim Seidakmatova graduated with honors with a red diploma from the Kyrgyz National Agrarian University in 2021, specializing in ecology and environmental management. She is currently studying for her master's degree in Integrated Water Resources Management at the Kazakh-German University. She founded the student eco-club "Young Environmentalists" at the higher student council of the Kyrgyz National Agrarian University in 2019. The purpose of which was to increase social environmental education among students. At the same time, Meerim interned at the "Urban Initiatives" and "Rural Development Fund" public foundations, the Agency for Hydrometeorology under the Ministry of Emergency Situations of the Kyrgyz Republic, in the Department of Environmental Monitoring (surface water and atmospheric air). She worked on research and projects on "Revival of indigenous livestock breeding. Kyrgyz horse", "Land of snow leopards", in the laboratory assisted in physical and chemical analysis of surface water samples, atmospheric air monitoring, including PM 2.5, freons.
Since the beginning of 2021, I have been the project coordinator for the Kyrgyzstan Youth Network CAY4W.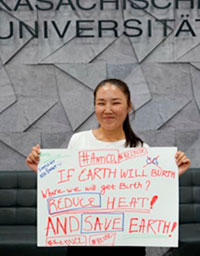 Minura Begishbek kyzy was born in the village of Gulcha, Alai district, Osh region of Kyrgyzstan. In 2018, she started working at the Department of Water Management of the Karasuu district as an accountant. Since then she has been working in the water sector. In 2019, Minura entered the Kazakh-German University of Integrated Water Resources Management, which allowed her to improve her knowledge in this field.
Currently, Minura Begishbek kyzy works in the Main Department of Water Management of the city of Osh as an economist, and she is a nominee of Blue Peace Story. She wishes to continue her career in the water sector as well as to grow professionally.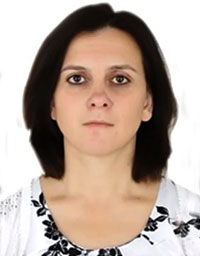 Sitora Mirzokhonova is currently a candidate of technical sciences. She works as a lecturer at the Department of Meteorology and Climatology of the Tajik National University. Also from 2019 to the present time she has been working as a part-time senior researcher at the Institute of Water Problems of Hydropower and Ecology of the National Academy of Sciences of Tajikistan, and from 2000 to 2007 Sitora worked at the Agency for Hydrometeorology of Tajikistan.
Study of climate change in the upper reaches of the Panj River is her research interest. She participated in technical part of national projects on the Panj river. In 2019 she received her PhD in hydrology and meteorology. In 2004, she graduated from Tajik National University as a meteorological engineer.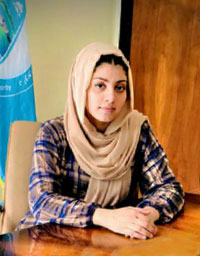 Narges Sediqi was born in Tehran-Iran and has graduated  BSc from GeoScience department of Kabul University. She has been working at National Water Affairs Regulation Authority (NWARA) as Quality Control and Data process Engineer before the Taliban took over Kabul.
Narges has a great job experience in different positions at the ministry of energy and water, now called NWARA. She was also a Rural Drinking Water Management engineer, and an Intern for GIZ and FAO. Moreover, for about two years, Narges had worked with Afghanistan Civil Aviation Authority (ACAA) and NGOs, at that time her position was weather forecaster in ACAA and Admin Assistant in HOME (NGOs). In addition, she used to be a co-member of Quality Control of JICA and volunteer member of Afghan Astronomy Association which works in the field of planetary and space science.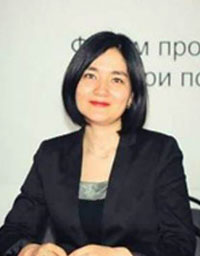 Shohida Tulieva is the National Coordinator for "Gender and Social Equality" in the National project "Water Resources Management in Tajikistan", which aims to support the "Tajikistan Water Sector Reform Program for 2016-2025", HELVETAS Swiss Intercooperation in Tajikistan.
Moreover, Tulieva is the President of the Association "Woman and Water" of Central Asia and Afghanistan with the aim of developing networking and increasing the potential of women specialists in the water sector. She has contributed to the development of social, gender issues in water resources management, taking into account the principles of Integrated Water Resources Management (IWRM), focusing on the development of the "Bottom-Up" approach with experience in Central Asia.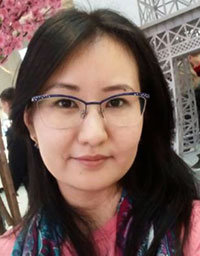 Zhanar Naurozbayeva has been a senior researcher at the Research Center of the Republican State Enterprise Kazgidromet since 2011. Zhanar graduated from the Faculty of Geography at Al-Farabi Kazakh National University with a degree in Hydrometeorology and also received a master's degree in the same field from Al-Farabi University.
In addition, Zhanar did her postgraduate studies at the Faculty of Meteorology, Department of Meteorology, Climatology, Atmosphere Protection at the Russian State Hydrometeorological University in St. Petersburg, Russia.
"The Mentoring Programme allows us to share experiences and knowledge and provides a platform where we can improve not only our professional skills, but also personal qualities such as public speaking, communication and self-branding."
Coordinating team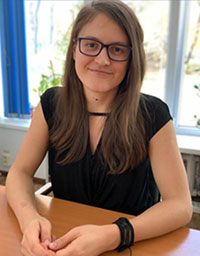 Tais Reznikova is a water resources management specialist with an academic background in IWRM, environmental management, and policy. Currently, she is coordinating the Mentoring and Career Development Programme for Women in Water and the Blue Peace Central Asia Secretariat at the Regional Environmental Centre for Central Asia (CAREC) in Almaty, Kazakhstan. Tais has more than 7 years of experience in the implementation of projects in Central Asia in the field of basin management and planning, water diplomacy. She holds a master's in Environmental Science, Policy and Management from Central European and Lund Universities, and in IWRM from Kazakh-German University.
She believes that only an inclusive and comprehensive approach that acknowledges the role of women in water management can be truly sustainable in the long term.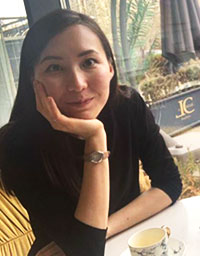 Dinara Samekova is a Programme Assistant at the Department of Water Initiative Support, CAREC. Before being named an Assistant Dinara was working in aviation. She earned her Master's Degree in International Relations at Shanghai Normal University/ 上海师范⼤学 in 2019. Prior to her studies, Dinara used to work at VFS Visa Application Centre in Shanghai in coordination with the Russian Consulate. That was the second time when she had to work with government officials after her internship at the MFA of the Republic of Kazakhstan.
Dinara Samekova hopes to be helpful in the cause of preserving the environment.
Dr Saule Ospanova, Senior Environmental Affairs Advisor, OSCE focuses on the environmental cooperation portfolio at OSCE with activities in sustainable water management, water diplomacy, disaster risk reduction, good environmental governance and hazardous waste management. She has over 18 years of experience contributing to a number of multi-stakeholder initiatives, managing and implementing development projects in different parts of the world (including Kazakhstan/Central Asia, post-Soviet states, China and Africa).
Prior to OSCE, she worked with IIED—International Institute for Environment and Development, the World Bank, UN and other institutions on development of water, climate change and energy policies, as well as sustainability and accountability initiatives in the extractive sector. Her doctorate studies at the University of Michigan-Ann Arbor focused on resource governance and environmental justice.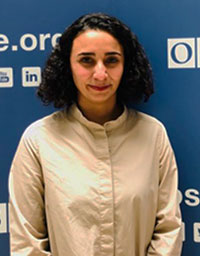 Sogol Jafarzadeh is the Environmental Affairs Adviser at the Organization for Security and Co-operation in Europe (OSCE) in Vienna. She started her new position at the OSCE Secretariat in April 2019, where she works on environmental security in general and water management and the Central Asia Region in particular.
Prior to joining the OSCE, Sogol worked at the United Nations Environment Management Group (EMG) Secretariat, UN Environment in Geneva and at the UN Resident Coordinator's Office in Iran acting as the SDG focal point and supporting initiatives on environmental security and combating sand and dust storms. She also worked at the City University of New York as an Adjunct Instructor teaching environmental sciences, environmental psychology and statistics 2010-2014. Sogol has an MSc in Environmental Sciences from the Swiss Federal Institute of Technology in Zurich (ETHZ) and a post graduate certificate in Environmental Sustainability from the Earth Institute, Columbia University in New York.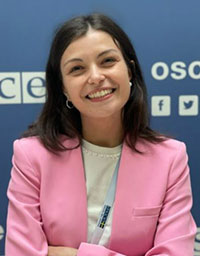 Letizia Zuliani is a Project Assistant at the Organization for Security and Co-operation in Europe (OSCE) in Vienna. Letizia started her position in August 2020 as an intern and is currently supporting the daily work of the Environmental Cooperation Unit, with particular reference to the Water Management and Good Environmental Governance portfolio. Letizia holds a Master in International Relations and Eurasian Studies at the University of Bologna and Saint Petersburg State University and a post-graduate Master in Sustainable Development and Geopolitics of Resources.
Letizia has a keen interest in pan-European security and environmental security in the post-soviet space.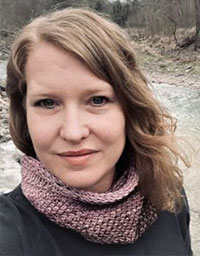 Elizabeth A. Yaari is Operations Lead and Senior Programme Manager in the Transboundary Water Cooperation Department at the Stockholm International Water Institute (SIWI). She is responsible for supporting water diplomacy engagements in conflict sensitive basins as part of the Shared Waters Partnership programme and the UNESCO Category II International Centre for Water Cooperation.
With a focus on inclusive governance Elizabeth previously served as SIWI's Gender Focal Point, coordinates the Women in Water Diplomacy Network in the Nile and leads SIWI's water and faith engagements. Elizabeth holds MA in Government, Diplomacy and Strategy and BA in International Relations.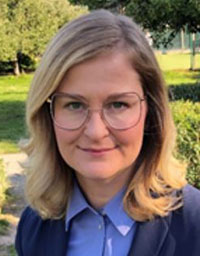 Katie Goldie-Ryder is a Programme Officer in the Transboundary Water Cooperation Department at SIWI. Katie supports the Shared Waters Partnership (SWP) programme, focusing on advancing SWP water diplomacy processes with a focus on Central Asia & Afghanistan and the Middle East engagements. Katie also supports the development of the International Centre for Water Cooperation's water diplomacy curricula. She serves as the Youth Empowerment Champion for the TWC team.
Katie has several years of practical experience building networks, supporting cooperative processes and multi-stakeholder dialogues in regional contexts. She holds a Master Degree in Peace and Conflict from Uppsala University and wrote her MA thesis for the 'Equal Peace?' project at the PRIO Centre on Gender, Peace and Security. Katie also holds a Bachelors Degree in Political Science and Global Developments from Huron University College.
This programme is run in collaboration with: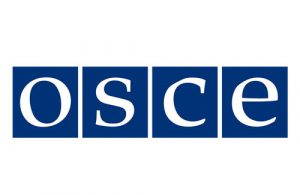 Organization for Security and Co-operation in Europe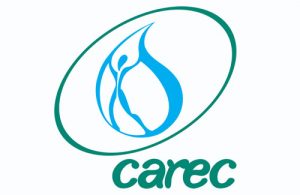 Regional Environmental Centre for Central Asia