PROJECT: WATER FOR RESILIENT LANDSCAPES

Multi-stakeholder platforms
The origins of the Water for Resilient Landscapes programme go back to three cluster groups hosted by SIWI's Swedish Water House.
Through these three initiatives, some 200 participants from more than 50 organizations participated in workshops, seminars and the production of reports and policy briefs.
The figure below illustrates the theory of change and pathway from establishment of an MSP platform, to the shared understanding of a system and its boundaries, to collective action.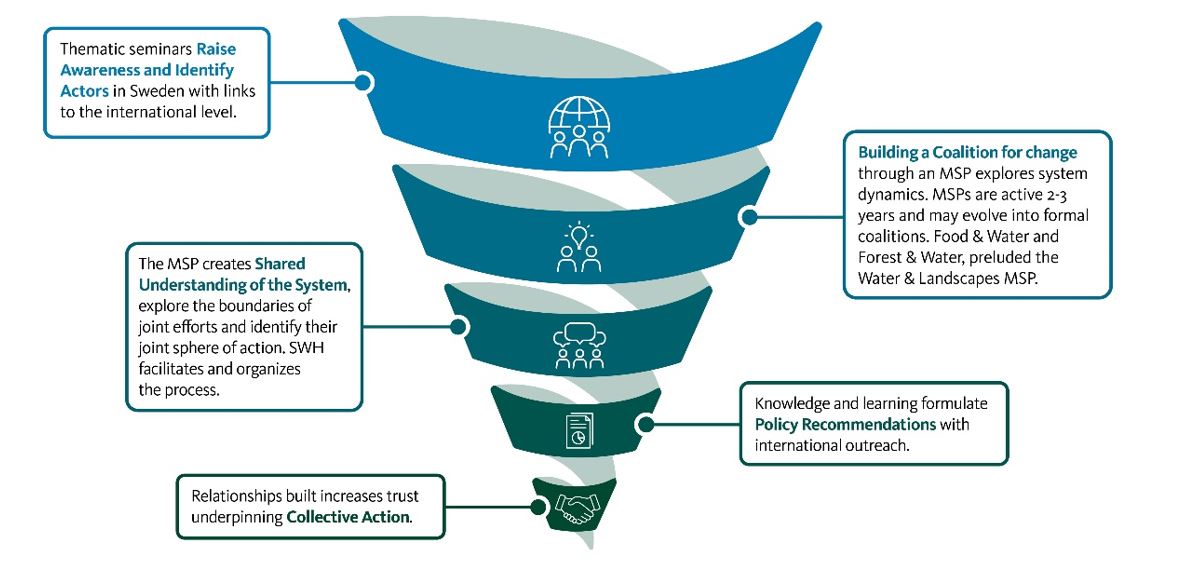 The Forest Water Champions
In 2017, SIWI joined forces with  FAO and IUCN to initiate the Forest Water Champions, one of the MSPs coordinated by SIWI. This informal expert group identifies common messages and seeks to improve the understanding between the forestry and water sectors.
The aim is  to raise awareness of  the important role played by the forest-water nexus in securing resilient landscapes. The network advocates for these perspectives to be more strongly considered in countries' efforts to achieve the targets of the 2030 Agenda as well as the Paris Agreement on climate change.
The Forest Water Champions consists of representatives from:
Food and Agriculture Organization of the United Nations (FAO)
International Union for the Conservation of Nature (IUCN)
Alliance for Global Water Adaptation (AGWA)
Centre for International Forestry Research (CIFOR)
CGIAR
British government
Dutch government
International Union of Forest Research Organizations (IUFRO)
Global Resilience Partnership
Forest Trends
UN Environment Programme (UNEP) and,
World Resources Institute (WRI)