Research project is dedicated to studying the question of stabilizing and improving the ecological condition of the lake water in Boryspil. The toxicity of the lake water samples of the territory has been explored, investigated and evaluated, the dependence between the anthropogenic load and natural water quality of lakes in Boryspil has been studied. The method of germination of test cultures on "floating disks" has been applied. As a result of the research, it has been proven that the growth processes of plants germinated on the samples of the testing water from various lakes of Boryspil is different significantly. As well as the indicator of phytotoxic effect and Student`s criterion gives a reliable integrated characteristic of the sanitary condition of lake water, which allows to determine the ecological status of reservoirs by their level of anthropogenic transformation.
This is how I came up with the idea for this project:
It all started with the fact that two years ago I got acquainted with programming and microcontrollers, saw a video on YouTube about how automatic systems for caring for flowers are created, and then I worked on creating my autonomous smart pot for a whole year.
CONTACT WATERTANK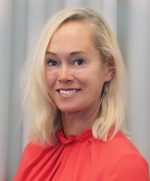 Ania Andersch
Programme manager