/
/
5 reasons why the climate crisis is a water crisis
Mar 20, 2020
5 reasons why the climate crisis is a water crisis
The consequences of global warming have been worse than expected and they are mainly felt in the form of water. Ahead of World Water Day on 22 March, SIWI calls for a new approach, so that the climate crisis is treated as the water crisis it really is. Here are five reasons why this is so important.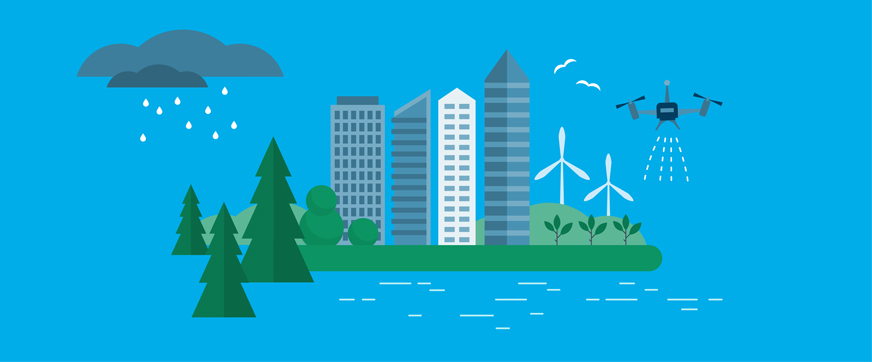 In a new campaign, SIWI wants to raise awareness of the role of water in relation to climate change. Many people have been alarmed to see that the consequences of the one-degree temperature increase we have experienced so far have actually been more dire than scientists had predicted. Since these impacts are for the most part water-related, it clearly shows how we must pay much closer attention to water when developing climate policy.
Below are five key take-aways.
Global warming causes disastrous impacts on the water cycle
The most profound effect of global warming is how it affects the water cycle. Until now, this simple fact has often been overlooked, but it is starting to be painfully obvious across the world. The number of extreme weather events is rising, for example, floods and droughts. Rainfalls and seasons are also becoming more unpredictable.
Weirder weather can cause food and water shortages
Not knowing when the next rain will fall makes farming increasingly difficult in many parts of the world. In the coming years, agriculture will require both research and investments to adapt to the new circumstance.
The UN has recently warned that southern Africa is already in the throes of a climate emergency, with rapidly growing hunger, and this requires investments to help farmers and communities cope. In South Asia, the situation can be problematic as the monsoon, which provides 70 per cent of the region's rainfall, gets more and more unpredictable.
Disasters could trigger a vicious cycle of poverty
The Intergovernmental Panel on Climate Change expects disasters – which are mostly water-related – to rise across the world. The world's poorest, who have contributed very little to greenhouse gas emissions, are hardest hit. There is a real risk that low-income countries are pushed into a vicious cycle of worsening poverty if they can't recover from one disaster before the next one strikes.
In the past year, Mozambique was first hit by Idai, one of the worst cyclones ever to reach Southern Africa, and then six weeks later by cyclone Kenneth. More recently, parts of the country have been flooded. Many countries find themselves facing similar patterns of recurring crises. Societies across the world must have a chance to redesign themselves to become more resilient, which will require the economic burden to be shared.
Landscapes are the real climate heroes
Oceans, wetlands and forests are Earth's most important carbon sinks. Resilient landscapes, with the water cycle in balance, is essential to avoid dangerous tipping points and dramatically rising temperatures. By protecting ecosystems and using nature-based solutions in the planning of human societies, we all become safer. Protected forests and wetlands can for example store carbon, recharge groundwater and provide a buffer against storms. Mangrove forest can hold the equivalent of two years global greenhouse gas emissions whilst playing a key role in protecting coastal cities from rising sea levels.
We must focus on resilience
Global warming will undoubtedly mean that we will live in a more dangerous and uncertain world, but the consequences are still manageable if we aim for both drastic emission cuts and policies to make societies more resilient. Many water-related solutions let us do both simultaneously and they should, therefore, be prioritized. Protecting forests, integrating wetlands in cities, and investing in wastewater treatment are examples of solutions that multi-task. Through them, we can curb the emissions curve and boost resilience in a way that also helps reduce the gap between the rich and poor.
Global water issues in your inbox
Stay up to date on SIWI's work and related topics from around the world.
Sign up to our newsletter