/
/
Building climate resilient WASH services in Darfur Region
News
.
Jun 13, 2022
Building climate resilient WASH services in Darfur Region
In collaboration with SIWI, UNICEF Sudan country office is supporting the government of Sudan to undertake a climate change risk assessment for water, sanitation and hygiene in Darfur Region. The goal is to identify and prioritize options to reduce the risks to WASH and build climate resilience in the area. The process will lead to a WASH sector climate change adaptation (CCA) plan for Darfur Region.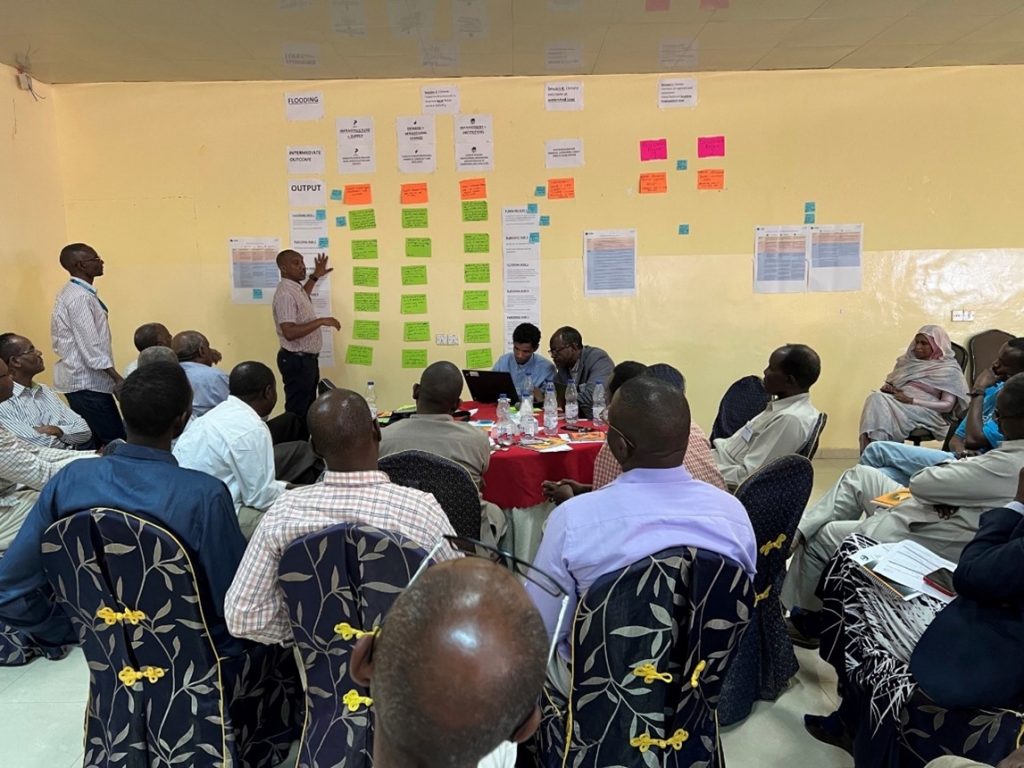 On 17 and 18 May 2022, we held a workshop in Al Fashir, North Darfur, in the presence of the current National level and Darfur State level National Adaptation Plan (NAP) committee members. The workshop identified adaptation options at three levels to reduce the risks:
local and community level
watershed level
regional/State administrative level (enabling environment level)
During this workshop, we also presented approaches and tools to national actors, so they are able to undertake risk assessments and prioritize adaptation solutions for the WASH sector at the national level. The WASH sector specific adaptation plans that will result from this work will in turn inform and strengthen an updated National Adaptation Plan (NAP) for Sudan.
Building resilient infrastructure and services
Before the workshop, a climate change risk assessment for WASH was conducted for the Darfur States using a methodology developed by GWP and UNICEF, in which risks result from the interaction of hazard, vulnerability, and exposure. The exercise focused on the impact of climate risks on WASH infrastructure and services, including water sources and users. The assessment showed that risks related to drought, flooding, and heatwave hazards were most prioritized across Darfur five States. The analysis indicated that specific population groups are exposed to more than one climate risk and are thus the most vulnerable. As such, these populations are subjected to lower levels of water services.
Moreover, people living in flooding-prone areas are more exposed to water pollution because their water is typically accessed through unimproved sources. Often, the immediate impact of a hazard is that the affected population is subjected to lower service levels and incurs severe health risks. Similarly, heatwaves in Darfur can cause many health risks like dizziness heat stress, acute kidney injury, and may cause death, especially for the elderly. Therefore, the workshop drew attention to the most exposed and vulnerable groups, focusing on solutions that significantly reduce these risks.
Increasing water demand during the heatwaves can put additional stress on water infrastructure and decrease water availability for all, where drought may severely limit water availability. The resilience of these WASH infrastructure and services must be improved in order to better cope with climate risks.
During the workshop, the participants proposed climate-resilient solutions on local, watershed and enabling environment levels. Accordingly, they screened and prioritized these solutions and then developed a response framework at Darfur Regional level for drought, flooding and heatwaves.
A commitment to supporting climate resilience WASH
At the end of the workshop, the participants signed a declaration for the National Adaptation Plan (NAP) committee representatives from the administrative Region of Darfur. The declaration acts as a commitment to jointly support the successful implementation of the prioritized climate change adaptation options for building climate resilient WASH services in Darfur Region. Participants also committed to supporting the inclusion and strengthening of climate-resilient WASH into the Sudan NAP.