/
/
Comoros takes action to improve integrated water resources management
News
.
Oct 15, 2019
Comoros takes action to improve integrated water resources management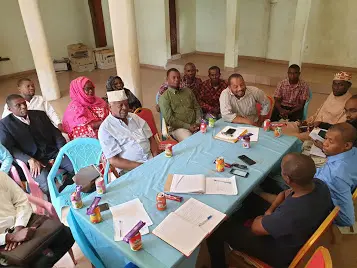 The Government of Comoros is taking the next step towards the enforcement of integrated water resource management - IWRM.  The revised water code will lay the foundations for the equitable use and protection of water resources and will allow for the framing of participative water development and decentralised water management on each of the three Comorian islands. 
Comoros has a small national land area of only 2,612 km² consisting of steep volcanic terrain, with no part of the land mass being further than 7 km from the coast. Watersheds and aquifers are small and have little natural water storage capacity, so consequently are highly vulnerable to climate change magnified rainfall variability. The rural population is reliant on rainwater harvesting and the combination of drought, flood, and salinization, impacts the islands water supply resulting in increasing water scarcity.
As a result, there is a need for a participative, well integrated water resource management, that involves sharing scarce water resources amongst different water uses and making the appropriate social choices to guide green and grey infrastructure development. The water code currently in force, dates from 1994, and is very much WASH focused and has not considered until recently, decision-making, planning and management tools that could cater for climate change adaptation, resource protection and sustainable management.
Comoros' first step in effective enforcement of integrated water resources management will take place with the support of a $40 million grant from the Green Climate Fund (GCF).  The GCF's project objective is to adapt water management and service delivery to address the increasing extreme climate risks; droughts, flooding and water quality impacts from landslides and erosion.
In conjunction with national government, the national water supplying company (SONEDE) and other water service providers, water user associations and communities, together with their development partners providing co-financing (amongst whom include the UNDP), GCF resources will be used to address critical technical, institutional and financial barriers impeding the improvement of climate resilience of the country's water resources and water supplies.
The Ministry of Environment and Forestry, through the UNDP Country Office called upon the knowledge and expertise of the SIWI-UNDP Water Governance Facility.  As a team, one international and two national lawyers were mobilised, and a four-month consultative and participative process including three workshops was facilitated. "The Union of Comoros is now in desperate need of a new water code to allow a reorganization of the water sector and to adapt to the current context and to climatic change impacts", said National Director for Environment and Forestry, Mr Youssouf Mbechezim, during the opening of the technical validation workshop. The final version of the water code was technically validated in September in Moroni, capital of the Union of Comoros.