Diversity in both nature and knowledge
To meet global climate and water-related challenges, we need to look beyond western-centric perspectives on nature and on management of resources, writes SIWI's Kristina Johansson in this blog post. World Environment Day 2020, celebrated on 5 June, reminds us of the importance of biodiversity, as well as the diversity of perspectives, for securing the natural environment.
The food we eat, the water we drink and the air we breathe all come from nature. Yet, we humans seem to take this all for granted, not realizing that to care for ourselves we must care for nature.  For this, we need to value not only biodiversity in nature but also diversity in knowledge and perspectives.
This year's theme of the World Environment Day is biodiversity, highlighting nature's role in providing the essential infrastructure and a wide range of services that support all life on Earth and all human development. Water-related ecosystems such as lakes, rivers, and vegetated wetlands are among the world's most biologically diverse environments and provide multiple benefits and services to society. Many of these ecosystems, particularly forests and wetlands, are at risk, and with them their water-related ecosystem services.
To meet these urgent challenges, we need to look beyond prevailing western-centric perspectives on nature and on the management of resources. Indigenous peoples can play a vital role – they are custodians of many of the world's most fragile and important ecosystems, including water ecosystems and headwaters, and tend to have significant knowledge of the natural resources where they live. The values and perceptions of, for example, water, are often built upon social-cultural values that place importance on the relationship and the interconnections between people and water. Indigenous peoples' traditional ecological knowledge is often based on a life lived in marginal and challenging environments, already implementing knowledge and solutions for resilient communities.
It is time to recognize and, indeed, time to act, on the deep, mutual interconnection between people and planet. Nature is not only a resource for us to use, it is an integral part of who we are. A stewardship approach based on social and cultural values and improvement of the overall wellbeing of ecosystems can enhance nature-based solutions (NBS) and contribute to improved biodiversity and resilience. The inclusion of different perspectives and wider sources of knowledge, including traditional knowledge from indigenous peoples, is a step that cannot be missed in our actions to embrace diversity in both nature and knowledge. Join the global community in the celebration of World Environment Day and mark your calendar for 9 August when we celebrate the International Day of the World's Indigenous Peoples.
Learn more about SIWI's work on biodiversity here, here and here.
For more information about how the UNDP-SIWI Water Governance Facility works to strengthen the knowledge about and position of indigenous peoples in water governance processes, visit the WGF web site.
Indigenous peoples occupy, own or manage an estimated 20–25 per cent of the Earth's land surface (UNDESA, 2019). This land area, amounting to about 38 million sq km, is estimated to contain about 80 per cent of the Earth's remaining biodiversity and intersects with about 40 per cent of all terrestrial protected areas and ecologically intact landscapes (ibid).
Read WGF's and SIWI's new policy brief on Indigenous peoples, water and climate change!
Read WGF's and SIWI's new policy brief:
Indigenous peoples, water and climate change.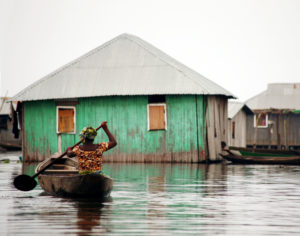 The climate crisis is a water crisis.  The most disastrous consequence of global warming is how it impacts the water cycle. We can already see this in the form of increasingly disastrous floods and droughts. It is only when we realize this that we can come up with solutions that are effective enough to make a real difference.