News
.
Aug 20, 2020
Here are SIWI's sessions during WWWeek At Home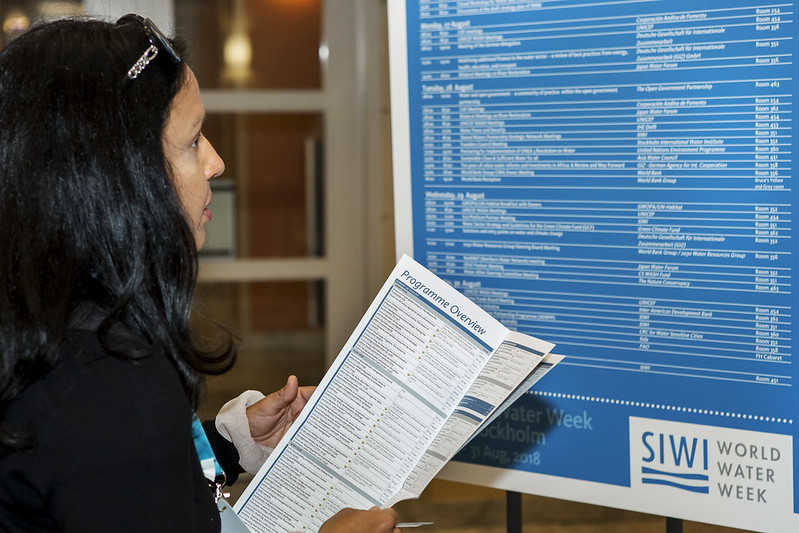 As organizers, we at SIWI are proud to welcome everyone to World Water Week At Home, the unique series of 120 sessions to accelerate action on climate change and other global challenges. It is a great show of strength that so many organizations have decided to share their expertise under the World Water Week At Home umbrella.
SIWI's role is to curate content and hold joint events, such as the Opening, the Meet the ministers, the Closing and the Stockholm Junior Water Prize ceremony. But we also take the opportunity to organize a number of sessions on specific topics, often together with partner organizations, to draw on our own knowledge and experience. Here are some sessions on hot topics 2020, click on the links to learn more and take part.
Sanitation for everyone
SIWI, together with UNICEF, is closely monitoring how the world is responding to Covid-19 from a water, sanitation, and hygiene perspective. Important lessons are shared on in the session A coordinated response under Covid: feasible and worth the effort? (Monday 6 pm CET)
The pandemic has also raised awareness of the fact that 40 per cent of the global populations still lack provisions for clean water at home. This dilemma is explored in Progressive realization of the right to water and sanitation (Wednesday 4 pm CET) with the United Nations Special Rapporteur on the human rights to safe drinking water and sanitation, Léo Heller.
Two sessions are dedicated to new sanitation challenges linked to climate change: Water and sanitation regulation in the climate change era (Wednesday 6 pm CET) and Linking the WASHBAT to climate change management. (Thursday 4 pm CET)
Climate change management
Given the impact of the climate crisis on all aspects of life, this is, of course, addressed in most sessions. In Breaking silos – across sectors and boundaries – responding to climate change and Covid-19 (Tuesday 1 pm CET), the panellists discuss how water-related solutions often help us tackle several of humanity's greatest challenges simultaneously. For inspiration on how water can be integrated into countries' nationally determined contributions to the Paris Agreement, you should tune into Enhancing the NDCs: An opportunity for addressing water interactions (Monday 5 pm CET).
The sessions Linking climate information, governance and justice for a resilient future (Wednesday 7 m CET) and Solving the water climate puzzle by connecting youth stories and decision-makers (Wednesday 1 pm CET) will also raise important questions about how water should be governed and by whom.
Building resilience
Many sessions look at concrete water solutions to boost societies' resilience, for example, Water in a climate crisis – capacitating resilient solutions (Monday 3 pm CET) and Urban resilience under Covid-19: what happens next? (Thursday 12 am CET) The topic of nature-based solutions is explored in Co-benefits of implementing NBS for climate-related water and flood management (Thursday 10 am CET).
There is also a session on the important topic of  How do businesses manage short-term shocks and long-term water resilience? (Tuesday 3 pm CET)
Landscapes and farming
One of SIWI's main areas of expertise relates to sustainable landscape management. In Improving water and landscape governance in Ethiopia, stories of change (Thursday 9 am CET), participants get to follow one successful project with important lessons also for other countries. The session Building climate resilience and incentivizing African farmers (Wednesday 11 am CET) discusses the use of Payment for Ecosystem Services as a way to encourage effective water and soil management.
To learn more about the growing importance of groundwater as the climate crisis escalates, you should join the session AMCOW's groundwater governance program a roadmap to resilience (Tuesday 4 pm CET) and if you're interested in digital solutions to improve water quality, you may want to check out Digital water platform to change the world of safe water (Thursday 3 pm CET).
Here you find the full programme for the week, with everything you need to know about the 120 sessions.
Special highlights
Day by day
Monday:
Water in a climate crisis – capacitating resilient solutions Monday 3 pm CET
Enhancing the NDCs: An opportunity for addressing water interactions Monday 5 pm
A coordinated response under Covid: feasible and worth the effort? Monday 6 pm CET
Tuesday:
Breaking silos – across sectors and boundaries – responding to climate change and Covid-19 Tuesday 1 pm CET
How do businesses manage short-term shocks and long-term water resilience? Tuesday 3 pm CET
AMCOW's groundwater governance program a roadmap to resilience Tuesday 4 pm CET
Wednesday:
Building climate resilience and incentivizing African farmers Wednesday 11 am CET
Solving the water climate puzzle by connecting youth stories and decision-makers Wednesday 1 pm CET
Progressive realization of the right to water and sanitation Wednesday 4 pm CET
Water and sanitation regulation in the climate change era Wednesday 6 pm CET
Thursday:
Improving water and landscape governance in Ethiopia, stories of change Thursday 9 am CET
Urban resilience under Covid-19: what happens next? Thursday 12 am CET
Digital water platform to change the world of safe water Thursday 3 pm CET
Linking the WASHBAT to climate change management Thursday 4 pm CET