/
/
How the next generation are striving to save the world they inherited
Story
.
Jul 30, 2019
How the next generation are striving to save the world they inherited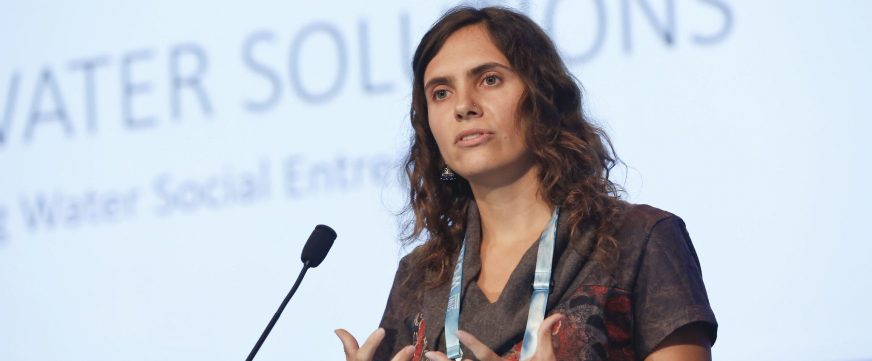 All over the world, young people are getting involved in water issues – as innovators, activists and entrepreneurs. The young are increasingly sought after in development projects and political campaigns. But, at the same time, there is also a strong rise in street protests and court cases with plaintiffs claiming that environmental practices threaten the rights of future generations. Read more in this article from WaterFront Magazine.
This story does not begin with Greta Thunberg's school strike in August 2018. Rather, the past few months of climate-related youth activism could be seen as the most recent manifestation of something that has been brewing for years. The old way of looking at the planet has come into question.
Since 15-year old Greta Thunberg first took position in front of the Swedish parliament on 20 August last year, she has inspired thousands of students in more than 100 countries to join the school strike and climate march movement. This recent wave of youth activism has implications also for the water world, says Antonella Vagliente, Director General of the NGO Young Water Solutions: "It's incredible, really! In Belgium, where I live, the student movement is highly visible and they're having a definite impact on politics."
She believes this will make it easier also for young water activists in general to make their voices heard. Politicians are increasingly reaching out to young voters to discuss the long-term sustainability of projects and both environmental NGOs and climate scientists have been quick to side with the student movement. "There is a growing interest in what young people have to say, which is important because they often have a different view on things," Antonella Vagliente argues.
She sees many examples of this, across the globe. Her own background is partly with the influential Agua & Juventud movement (Water & Youth) that started in her native Argentina in 2007 and has since spread to more than 30 countries. Already as a 15-year old, Antonella Vagliente joined another youth-led environment organization, Ecoclubes, which dates back to the early 1990s. She was propelled to action by the realization that two million of her fellow citizens lacked access to safe water and sanitation.
"Many young people find local water problems that they want to fix. They often have a very practical view and are quite updated on needs and trends. Given that half the global population is under the age of 30, the only way we can achieve the sustainable development goals from the 2030 Agenda is by involving the young," she says.
Indeed, the 2030 Agenda for Sustainable Development from 2015 has done much to spearhead youth involvement, according to Asma Bachikh, former President of the World Youth Parliament for Water. "With the 2030 Agenda, it became important for organizations to involve young people to obtain funding. Of course, at times it may be more like 'another box to tick', but I think we're beginning to see some real changes," Asma Bachikh says.
The year 2015 can be viewed as a defining moment for youth activism for another reason as well. In June that year, the environment organization Urgenda won a case against the Dutch government, forcing it to take stronger measures against climate change. At present, there are around 1,000 similar cases around the world, often with young activists as plaintiffs. According to a report from the UN's environment programme, UNEP, the number has trebled since 2014 and looks set to grow.
The Urgenda case has done much to inspire similar lawsuits in other countries, not least because it was actually successful, unlike many previous attempts. Another much-publicized court case is Juliana et al v United States of America, where 21 youth plaintiffs filed a lawsuit in the federal district court in Oregon against the United States, the US president, and various other federal officials and agencies. They claimed that US government agencies have violated youth's rights by allowing activities that significantly harm their rights to life and liberty. The US Department of Justice has argued that there is no ground for judicial action but in 2016 the US District Court of Oregon upheld the idea that access to a clean environment should be considered a fundamental right. It remains to be seen if there will eventually be a trial or not.
A key concept in the Juliana case is intergenerational equity, with world renowned climate expert James Hansen acting on behalf of future generations. The idea that current generations must take the needs of future generations into account is gaining traction, in the Extinction Rebellion as well as academic studies.
A recent example is from the release of the Intergovernmental Science-Policy Platform on Biodiversity and Ecosystem Services (Ibpes) in May, with stark warnings that the world's ecosystems are in a dramatically more fragile state than previously understood. "If we leave it to later generations to clear up the mess, I don't think they will forgive us," one of the main authors, Professor Andy Purvis, commented in the Guardian.
Equally important and related is the concept of nature as a bearer of rights. In Colombia, 25 young people between 7 and 25 won a court case in 2018, where they argued both that the government failed to impose sufficient measures against climate change and that the Amazon was not given enough protection, which endangered their rights to a healthy environment, life, health, food and water. In its verdict, the Supreme Court ruled in favour of the plaintiffs, proclaiming that the Amazon has rights and ordering the government to create an "intergenerational pact for the life of the Colombian Amazon". A year earlier, the Colombian river Atrato had also been recognized as having rights.
Antonella Vagliente from Young Water Solutions emphasizes the importance of this being a global movement. Similarly, she sees how young people across the world are innovating and starting businesses to tackle water challenges. "This is different from previous generations. Young people also need employment, so they often start a business rather than a project to address problems they see," she says.
Three years ago, Young Water Solutions therefore started the Young Water Fellowship Programme, through which entrepreneurs can apply for support to establish a business based on a water initiative. They have received hundreds of applications, mostly from Africa, and so far, 19 people have been accepted, with another 10 set to enter the programme. Selected candidates receive training, mentorship and funding, usually around €3000 to €5000. After a one-month training course, covering business topics as well as water and sanitation, the fellows present their business pilot based on what they have learned and get feedback from a mentor. "We encourage social entrepreneurship, so that the project is not just technically adequate but also financially sustainable. A strong trend is that young people are very business conscious and, at the same time, interested in applying traditional knowledge, for example through nature-based solutions. Here we need much more intergenerational learning," Antonella Vagliente says.
Stockholm WaterFront, no 1 2019
Sign up for your FREE subscription of Stockholm WaterFront here >>