/
/
Indigenous communities show pathway to managing the forest-water nexus
Blog
.
Sep 09, 2021
Indigenous communities show pathway to managing the forest-water nexus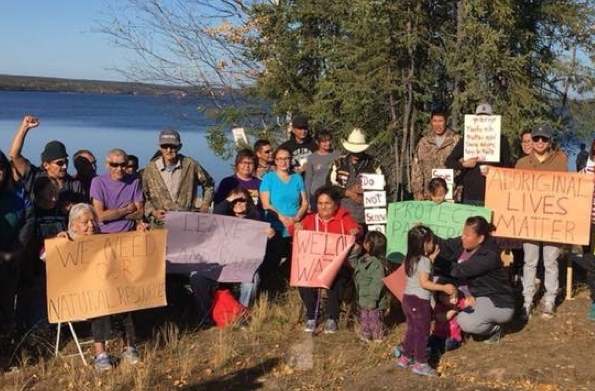 Indigenous knowledge plays an important role in raising awareness of the forest-water nexus. This was one of many important take-aways from a World Water Week session, presented in this blog post written by SIWI's Lotta Samuelson and Sandra Gordon from CIFOR on behalf of the Forest Water Champions.
In the Clearwater River Dënë Nation, an indigenous community near La Loche, Saskatchewan, in Canada's northern boreal forest, people are applying lessons from sustainable forest-water management approaches to adapt to devastating climate change and protect their futures. Through climate literacy initiatives, indigenous youth and scientists are collaborating to develop the next generation of climate leaders.
"They can lead on pathways to sustainability of the boreal forest, and its waters, in the face of climate change…through collective climate accountability and adaptation," said Professor Irena Creed, Vice-Principal of Research and Innovation at the University of Toronto's Scarborough Campus. She recently shared this example with 60 participants in the interactive event: 'Healthy forests, healthy people: managing the forest-water nexus' during World Water Week 2021, held virtually from August 23-27 with some 13,000 attendees from 188 countries.
Learning from their elders, indigenous communities in Canada's boreal forests are also reviving traditional landscape teachings, almost lost to over a century of destructive institutional policies. That traditional knowledge is now being applied in unison with the Enhancing Climate Literacy project, Creed explained during the final day of World Water Week. The project supports three main actions: promoting climate literacy and an understanding of climate science, while empowering communities for climate change adaptation across the forest-water nexus. The Clearwater River Dënë Nation's goal is to become equal partners in Canada's transition to net-zero carbon dioxide emissions, and in so doing, improve their health and wellbeing.
Examining how the forest-water nexus can affect and contribute to biodiversity, climate change and agroforestry was the focus of the "Healthy forests, healthy people" session, organized by the Forest Water Champions (FWC) Network, comprised of forest and water experts from multiple organizations. The network has also organized a series of three webinars over the past year, examining the role of forest-water interactions in delivering ecosystem services that contribute towards successful landscape restoration and climate change mitigation/adaptation. The key recommendations from the webinars will be presented at the COP 26 UN Climate Summit in Glasgow in November 2021. They were also discussed at the World Water Week event.
The key recommendations include calls for:
finding solutions for integrated forest-water nexus in landscapes and watersheds management;
conducting more research and monitoring forest-water interactions in multi-functional landscapes, which is essential and should be a requirement of restoration and landscape initiatives;
exploring innovative and sustainable financing in the nexus that is key to provide a revenue stream to support catchment restoration, agroforestry and tree plantations to help protect watersheds;
promoting nature-based solutions in climate discussions in the upcoming COP 26;
developing a better understanding of how the potential benefits of agroforestry, such as water security and improved crop production, interact with each other, as well as exploring an improved understanding of the trade-offs and the potential synergies involved.
Those ideas were explored in three break-out sessions during the 'Healthy forests, healthy people' event at World Water Week. The first break-out group discussed how integrated forest/water management can contribute to ecosystem resilience and fair societies. It concluded that such contributions, which include utilising the various knowledge systems ranging from Indigenous practices and traditional knowledge to technical and transdisciplinary knowledge, are possible – under specific conditions. There is no silver bullet and the details of the local context matters; hence, the complexity can be challenging.
To better incorporate marginalized or vulnerable groups into decision-making processes, the second break-out group explored landscape governance principals that can enhance equitability and resilience. The session listed such principles as being participatory, transparent and reciprocal, humble and authentic, responsive and adaptable to new influences. This should help to ensure that traditionally excluded and vulnerable communities are included in discussions, engaged in design processes, and participate in monitoring and evaluation to ensure inclusivity.
Focusing on market approaches, the third break-out group discussed ways to contribute to sustainable commodity production and resource use in forest landscapes. It recommended that human rights-based approaches be prioritized to ensure that private-sector companies don't overlook individual and community rights. Under the United Nations Guiding Principles on Business and Human Rights (UNGP), the private sector is increasingly expected to respect established human rights and obligations of the state to ensure a healthy and sustainable environment. Therefore, further promoting the legal rights of the local communities, and introducing sustainable certification schemes for the market systems could ensure the validity of the market approaches. Additionally, educating and sensitizing of the community, especially on youth, as a long-term investment can introduce the next generation to sustainable practices for valuing the ecosystem services.
Building on similarities across recommendations from the three breakout sessions, James Dalton, Director of the IUCN Water Programme, concluded the FWC Network event with a call to action that stated:
Trees and forests are fundamental for the hydrological cycle, and hence for productive landscapes that provide water, food and raw materials for households and industries.
Ecosystem restoration must better consider forest-water relationships and their provision of ecosystem services.
Forest-water management should be integrated in broader landscape approaches that acknowledge multifunctionality and plural values and objectives.
The Forest Water Champions
The Forest Water Champions network is initiated and coordinated by the Food and Agriculture Organization of the United Nations (FAO), IUCN, and SIWI, and includes 15 institutions, governments, and non-government organizations.