/
/
Integrity and Transparency in Water Management in Latin America
Activity
.
Nov 26, 2014
Integrity and Transparency in Water Management in Latin America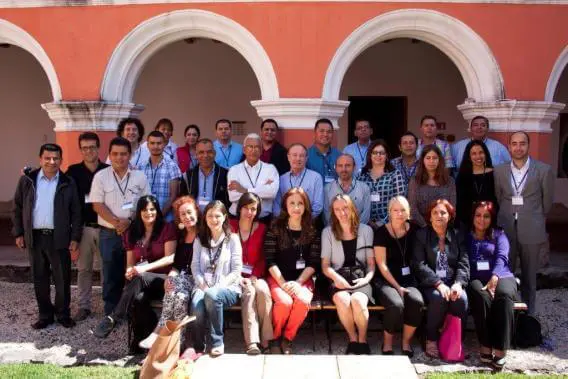 >Regional Capacity Development Course, La Antigua, Guatemala, November 24-26, 2014.
This training formed part of the collaboration between the UNDP Water Governance Facility at SIWI; LA-WETnet (the Latin America Water Education & Training Network which forms part of Cap-Net UNDP), and; the Spanish Agency for International Cooperation and Development, AECID.
The tailor-made course targeted participants selected by AECID, representing national counterparts of projects funded by Water and Sanitation Cooperation Fund (FCAS) in Central America and the Caribbean. The 29 participants (45% women) represented UNDP regional programs; AECID offices; water utilities, ministries, and institutions dedicated to water and sanitation in five countries: Costa Rica, El Salvador, Guatemala, Honduras, Panama and the Dominican Republic.
Through a proactive approach, where water integrity is seen as key for "water-wise governance," the course was designed to increase demand amongst key FCAS partners in Latin America and the Caribbean. The goal was to emphasise the importance of addressing issues of governance and integrity in relevant institutions nationwide, and to trigger demand among countries to implement water integrity programs. Such programs would encompass actions relating to transparency, accountability and participation in order to enhance the institutions' or the systems' ability to withstand and minimise corruption.
Sessions combined a conceptual review of key concepts associated with water integrity; a review of regional and international experiences and tools; and a set of practical sessions and group work using the "Integrity Management Toolbox" from which participants were trained to design integrity-improved business models for water institutions as an innovative way to mitigate integrity risks. The particular tool of "Integrity Pacts" developed by Transparency International as a means for reducing corruption in procurement processes received a lot of interest by participants.
An "amoeba" role game based on approaches to organizational change developed by AtKisson allowed participants to embody different roles and approaches toward new ideas. The game helped link the issue of water integrity with the processes of organizational change, innovation, and to visualize the complexity of putting principles into practice.
To conclude the training, participants -in groups by institution- developed ideas for work plans to promote water integrity at the institutional level and in the framework of FCAS projects. The potential work plans elaborated by participants from all countries represented provide a great opportunity for pursuing the theme of water integrity at the local levels. There is a demand for continuous capacity development support at various levels, including the facilitation of new courses, further design of integrity tools, and support to processes of organizational change.