/
/
From Virtual Jobs to Sustainable Livelihoods: Investing in Soil and Water Management
News
.
May 25, 2020
From Virtual Jobs to Sustainable Livelihoods: Investing in Soil and Water Management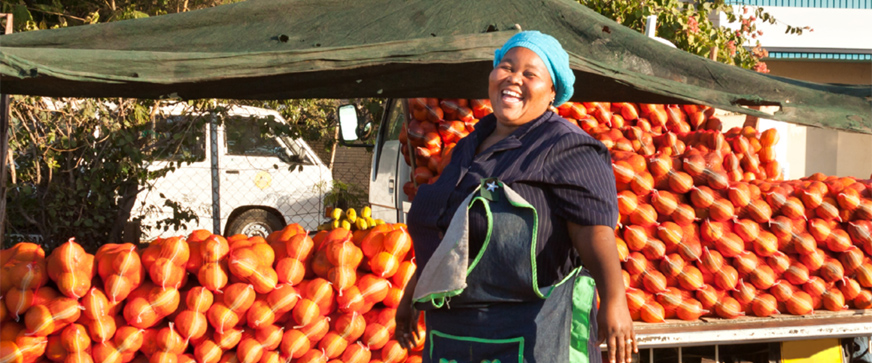 Despite the devastating impacts of the Covid-19 pandemic, investing in African soil and water management is more important than ever. This was the key message from a SIWI-hosted webinar on Tuesday 5 May to launch the report, Virtual jobs: African Smallholder Farmers and Food Imports. The report demonstrates how Africa could become less dependent on food imports.
The webinar, which was moderated by Katherine Madden, was opened by agricultural economist Kevin Urama from the African Development Bank Group who reminded us that green water agriculture significantly contributes to sustainable livelihoods and acts as a shock-absorber for rural economies in Africa.
Agriculture is the mainstay for most African economies and that 60 per cent of Africans are employed in the sector. However, productivity is quite low, and many countries are therefore importing large amounts of food at a high cost. Kevin argued that through traditional approaches and more modern innovative technologies to managing green water, smallholder farmers can increase yields and improve food security. This will require investing in African-based food production systems and agricultural value chains so that livelihoods can be preserved, jobs created and shocks resisted.
Len Abrams is the lead author on the new SIWI publication titled Virtual jobs: African Smallholder Farmers and Food Imports which was launched during the webinar. Presenting the report, Len highlighted that Africa is importing food to the value of $35 billion a year, which is expected to increase to $110 billion over the next five or six years.
The consequences for Africa include massive distortions of food markets which undermine local agriculture, especially for smallholder rural rainfed farmers. When food is exported, the benefits accrue to the country of origin, rather than the importing country. Len has therefore coined the phrase "virtual jobs" which argues that every billion dollars spent on importing food is equivalent to hundreds of thousands of jobs which are lost, or never created, in favour of outsourced food production.
The report states that today, 10 per cent of the rural population is affected by these consequences, including both on-farm and off-farm jobs and direct workers and their dependents. This figure is set to rise to one-third of the rural population by 2025. Len concludes that the only way to build viable rural economies is through wise use and management of water availability and soil moisture.
The first of three responders during the webinar were Moustapha Kamal Gueye, from the International Labour Organisation, who focussed on the importance of agriculture in terms of green jobs and the potential for the next generation of farmers. ILO research indicates that young Africans are keen to work in agriculture and with this next generation comes new ideas, different ways of farming and alternative production systems that can incorporate the concept of green water management.
There are many ways to innovate for example through new technologies such as information and communication technologies to run irrigation systems and farm management from a distance. However, this new generation of farmers also require an enabling environment, e.g. access to land, access to investment and access to capital. Moustapha referenced the interest young Africans have in niche markets such as organic farming but also the African diaspora who are interested in returning home and investing in the land.
The second responder, water resources specialist Michael Mutale from the Zambezi Watercourse Commission (ZAMCOM), suggested the report should be contextualised and understood with a framework of colonialism and the root causes of poverty. Michael reminded us that as Africa begins to grow and process their crops, there will be others outside the Continent who may lose their market. Michael agreed that political will is important, but we need to be mindful of the measures that induce or enhance political will and that perhaps further research by political analysts here could greatly be helpful.
Michael went onto introducing ZAMCOM, as an intergovernmental institution that was created by the coming together of eight Zambezi Riparian States, who agreed on the need for sustainable development and management of the water sources of the Zambezi watercourse. Michael concluded by indicating that the Virtual Jobs publication is timely since the recently adopted Strategic Plan for the Zambezi Watercourse will deal with issues around improving rainfed agriculture, environment protection and water resources management.
Last but not least was Barbara van Koppen from the International Water Management Institute who remarked that it is important to keep soil moisture retention on the agenda. IWMI is optimistic about the irrigation potential in sub-Saharan Africa and has seen a revolution in the way smallholder framers are investing in small scale management of the water supply.
Barbara highlighted the gender dimensions of investments into small scale irrigation. There tends to be a male monopolization of technology and infrastructure and women typically do not get the control that would make their labour more productive. Improving productivity is important but broader enabling issue must also be considered. Firstly, in terms of import tariffs and market protection. Secondly, dual agrarian structures make it difficult for smallholder farmers to enter the market. There are power-sharing issues that need to be addressed for both men and women.