Blog
.
Sep 23, 2020
Out of the water bubble, and into the world
The Government of the Netherlands (GoN) as strategic partner of SIWI, wanted to support World Water Week with creative ways of increasing engagement with the event's key messages during and beyond the conference.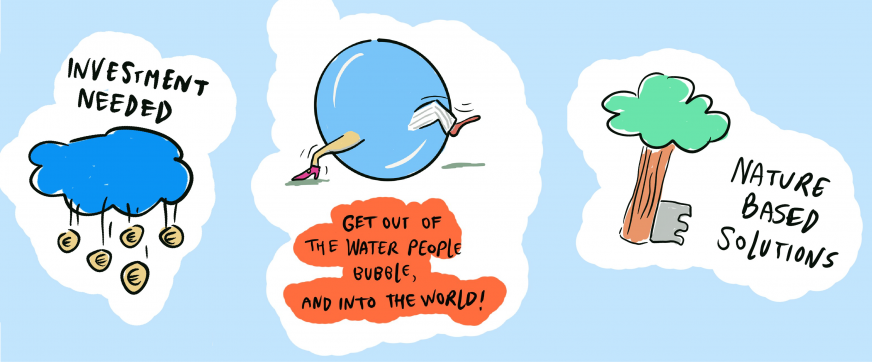 This activity was one of the highlights of the activities that SIWI and the GoN realized together. The following slideshow captures drawings from each session as well as a compilation of some of our favourite drawings made by Cunera from Draw Up!
These cartoons have the potential to travel well beyond WWWeek at Home and reach people ahead of upcoming events dealing with climate change, environmental challenges, political influence. The drawings can inspire conversations with family and friends – bringing key messages out of the water-bubble, and into the world.
Some conclusions drawn here are:
The climate crisis cannot be solved without water solutions. Water must be a priority in any actions addressing the climate crisis – from nature-based solutions and resilient cities to agriculture and energy.
Covid-19 has reminded us that water is at the heart of a range of key challenges. This is especially true for the most vulnerable around the world. Lack of access to safe water and sanitation combined with too much, too little or polluted water, exacerbated by climate change, is creating unprecedented risks and vulnerability.
Health, economic and climate crises impact one other. These challenges are felt worldwide, across borders, which means that strategic collaborations and cooperation that lead to collective action over time are key.
Youth can be central actors in the achievement of the sustainable development goals. Decision-makers must effectively incorporate insights and lessons from youth-led initiatives in the water-climate nexus.
Women must be better represented in key debates and leadership roles for innovation. The negative impacts of water and climate issues are disproportionately borne by women, yet women are underrepresented as decision-makers from a community to global leadership level.
And finally, we must all become better at communicating all of the above and much more so that people can raise their voices, hold decision-makers accountable and inspire change. That is what these cartoons aspire to do.