/
/
Stockholm Water Prize: last chance to nominate and celebrate
News
.
Sep 30, 2019
Stockholm Water Prize: last chance to nominate and celebrate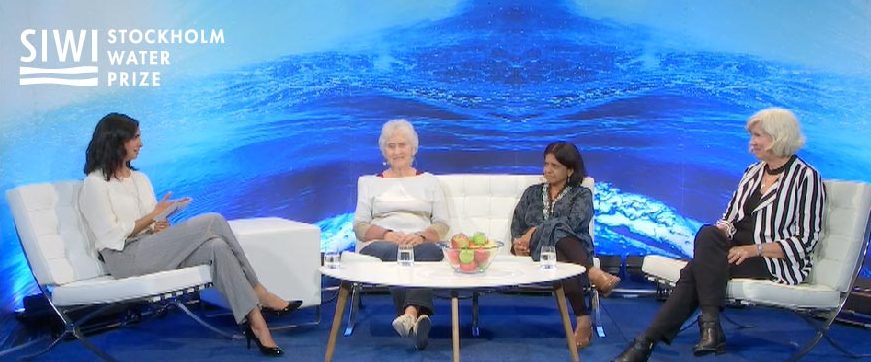 We cannot solve today's issues, including the issue of water, without having diverse voices at the table says Prof Joan Rose echoing her fellow Laureates during their Sofa session at this year's World Water Week. Dr King, Dr Narain and Prof Rose all demonstrate the exceptional value that women bring to water. Their respective works have transformed the way the world views and manages water. 
The Stockholm Water Prize has historically lacked diversity in its nominations but there is hope.
Dr Sunita Narain mentions during the Sofa that it is her attendance at this World Water Week which has given her hope. "I see change" she says, reflecting on the faces and voices she had met throughout the Week, a sign of ever increasing openness within the sector, with the potential of collaboration between disciplines within the water sector. This can start by celebrating diversity at the top: we cannot expect women at lower levels to do well when we fail to recognize women at the top. In taking note of the strengths that women can bring to the table we can re-calibrate our definitions of excellence to recognize and celebrate these. "Gender equality goes beyond counting how many men and how many women…it is about bringing different perspectives to the table", she continued: "the water sector will become more gender equal by becoming more diverse, open and multi-disciplinary." In giving diverse voices and actors the internationally recognised platform that winning the Stockholm Water Prize offers, not only will their work reach an even wider audience but opportunities for interdisciplinary co-operation and partnerships will be all the more possible whilst we help shape what the water champions of the future might look like.
Raising marginalised voices to an even wider platform is high on Prof Joan Rose's agenda: "there are so many diverse voices and experiences here [at the week]", her vision being that these changemakers in the water community are given the means and the funding to travel the world and spread their expertise so that we can progress towards a Water Wise World together. </pInclusion is imperative and as part of our drive towards that, SIWI is mainstreaming gender equality through ensuring that women are visibly participating at every level of decision making. We have already come a long way, during the Sofa Dr Jackie King, this year's revered recipient of the prestigious Stockholm Water Prize recalled early experiences of attempted collaboration with the engineering science department at her university whereby she was introduced to the engineering students as "the lovely lady who is worried about the little fish having enough to drink". Despite this oversimplification of her ground-breaking research Dr. King endeavoured to bridge the gaps between historically male and female disciplines fostering a collaborative scientific dialogue which enriched her students work and in turn, the research. Dr. King hopes for this sort of collaborative, inclusive and holistic approach to water management becoming more and more common as we move forwards. The nominations for Stockholm Water Prize close today (September 30th), help us raise the profiles of voices which need to be heard and nominate a person or organisation you believe to be setting the agenda for a better tomorrow in the Water World.