/
/
Torgny Holmgren's Address at the High-Level Symposium on Water
Blog
.
Jun 28, 2022
Torgny Holmgren's Address at the High-Level Symposium on Water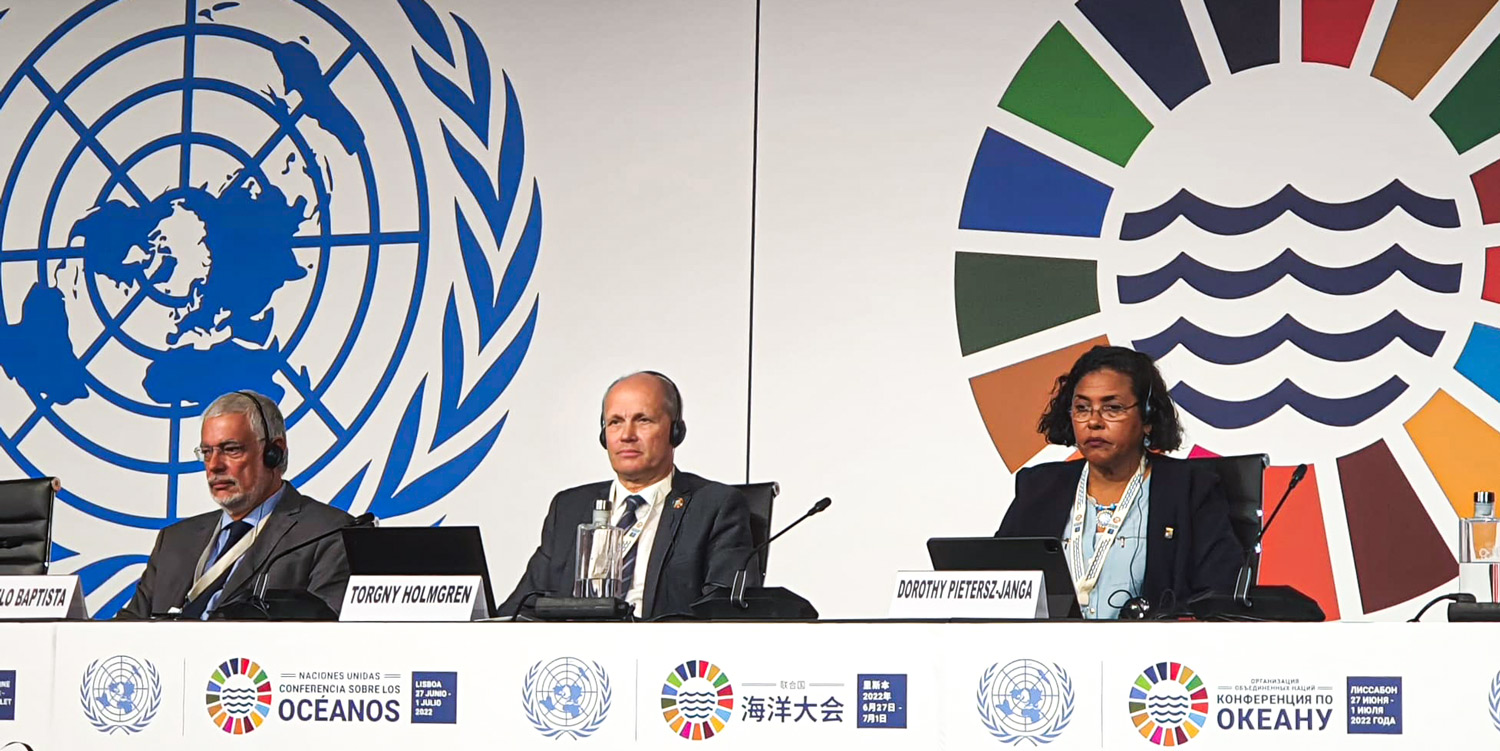 The following speech was made SIWI's Executive Director, Torgny Holmgren, at the The High-Level Symposium on Water – on Monday 27 June in Lisbon – as part the UN Ocean Conference. The event explored the interlinkages between SDG 6 (Clean Water and Sanitation) and SDG 14 (Life below Water), and brought together political leaders and high-level decision-makers who deal both with fresh- and salt-water, to discuss how best to connect these two communities.
Watch a recording of the High-Level Symposium on Water on demand. Torgny's address begins at 02:40:55.
Thank you for raising this very important topic of the need to bridge SDG 6 and SDG 14. It is crucial for the health of the ocean but also for freshwater ecosystems and, of course, for human health.  
What I really want to emphasize here is the need to manage water resources holistically.   
Fragmented governance is a grave and underestimated threat to oceans, freshwater and people. At the Stockholm International Water Institute, this is something that we see very clearly. We advise decision-makers on how to protect ecosystems and ensure that people have access to clean water. But unmanaged waste streams and altered flow regimes are increasingly harming ecosystems, and people depending on these ecosystems.  
To restore ecosystems on land, in rivers, and in our oceans, we need to move away from today's siloed thinking and fragmentation across sectors. And we have a real opportunity here. By strengthening partnerships between upstream and downstream actors, by developing strong coordination between sectors, we can find innovative solutions that result in multiple benefits. For example, by increasing the treatment of wastewater, we avoid impacts to coastal communities and fisheries.  
To do this we need to develop new approaches to making decisions, we need a source-to-sea approach. The Stockholm International Water Institute has been leading the development of this holistic management approach and hosts the Action Platform for Source-to-Sea Management. The strength of the source-to-sea approach to governance is its ability to ensure outcomes of mutual benefit from source to sea. It brings together all actors – policymakers, the private sector, scientists, NGOs, local communities, and Indigenous Peoples – to proactively co-create solutions.  
The source-to-sea approach places a strong value on inclusivity, participation, and equity, including groups of actors traditionally excluded from decision-making. This includes those who are dependent upon ecosystems for their livelihoods and are most vulnerable to their changes. Only through collaboration that crosses the land-freshwater-ocean boundaries, and founded on local knowledge, can we develop sustainable and lasting solutions with balanced benefits for our land, freshwater, oceans, and all of us. 
Our shared future depends on all levels of government and decision-makers working together to drive meaningful change and uniting policy and action for coordinated management to restore and maintain the health of the ocean.  
The consequences of fragmented governance and mismanaged natural resources are now evidently clear, and the source-to-sea approach is one of the most promising tools to solve these complex challenges. Now is the time for decision-makers around the world to come together to create meaningful change through policy reforms, sustainable financing and by developing frameworks which drive stakeholder collaboration.   
Immediate action from local to global scales is required. Governments, industry, businesses, academia, and citizens must work together to:    
INVEST

in science, education, data, and monitoring

.

We need

to better understand the linkages across the source-to-sea continuum

.

And

we must

ensure

that this knowledge is used

in

development on land and along rivers

to

safeguard healthy marine and coastal ecosystems and protects livelihoods

.

 

INCENTIVISE

and implement

holistic

management

of

terrestrial, freshwater, coastal and marine systems

.

This can

prevent

or limit

biodiversity loss

, deterioration of ocean health, ecosystem degradation,

and climate change impacts

. 

 

CATALYZE

source-to-sea action at global, regional, national, and subnational levels

by mainstreaming source-to-sea thinking

in the design and implementation of projects, plans, governance frameworks and investments. 

 

 

INCLUDE

all stakeholders in decision-making

!

Women, men, young and old must be part of the decision-making, including the voices and concerns of

Indigenous

Peoples, local communities, and vulnerable groups. 

 

 
INNOVATE transformative and scalable solutions that address source-to-sea challenges

.

We need solutions that

strengthen

l

ivelihoods, ensur

e

equity, harness collective wisdom and sustain ecosystems. 

 

ACCELERATE

the transition towards sustainable consumption and a circular economy by developing

financial and regulatory tools

that

stimulate cross-sectoral behaviour change, upstream-downstream cooperation.  

 
I hope that you all want to be part of this endeavour. We welcome you to join the Action Platform for Source-to-Sea Management. The platform was established a few years ago as a broad network of organizations committed to promoting, implementing, and building expertise in source-to-sea management aiming to strengthen cooperation between upstream and downstream interests for the benefit of all actors involved Today more than 35 partners have joined spanning rom multilateral organizations, and governments, to civil society organizations, the business sector, and academia. I invite all of you all to join this movement and platform to save the ocean, starting at the source.  
This is our chance to act. By working together, from source to sea, we can still develop solutions that save the ocean and bring us to a more water wise world.  
Source-to-Sea Platform
The Action Platform for Source-to-Sea Management is a network of organizations committed to promoting, implementing, and building expertise on source-to-sea management.
About the Platform