News
.
May 21, 2021
Turning the tide on biodiversity loss
The theme of this year's Biodiversity Day is "we're part of the solution" and aims to highlight how biodiversity is part of the answer to challenges like climate change, sustainable development and water security. And yet, we are seeing a devastating loss of biodiversity and a breakdown of ecosystems all over the world. We spoke to Dr. James Dalton, Director of IUCN Global Water Programme about how we start to reverse this pattern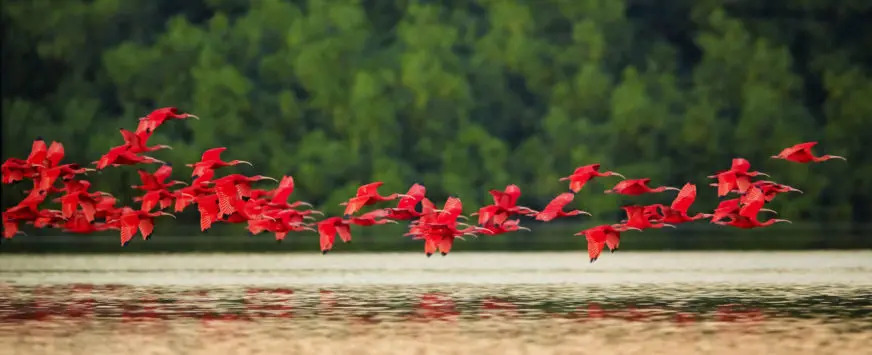 How can the source-to-sea approach to management help turn the tide of biodiversity loss?
The integrated approach embodied by the source-to-sea approach underscores the importance of biodiversity and healthy ecosystems by highlighting the interconnectedness between human and natural systems from land to freshwater, coastal and marine ecosystems.  Looking at biodiversity protection through a source-to-sea lens highlights the increasing complexity of environmental problems while (re)highlighting the importance of connectivity within not only river basins as freshwater systems, but also how they are linked to the coastal and marine environments.
It is critical that we reverse the loss of biodiversity.  In freshwater we have seen the  greatest loss since the early 1970's – around 80% of freshwater species have been lost.  Not only that but the current rate of wetland loss is three times that of forest loss.
Rivers supply freshwater, sediments and other nutrients to coasts, and are critically important resources for coastal ecological functions. Estuaries are systems of high ecological significance, providing sheltered refuge and habitat niches, abundant nutrients and high productivity, while serving as spawning and feeding grounds for many species of fish, mammals and birds. Understanding the fundamental linkages of how interventions can impact biodiversity downstream and upstream is vital to reversing the trend of biodiversity loss.  Not only that but we need to understand these causal links to manage risks and uncertainties in order to maintain economic productivity
IUCN has been a partner of the Action Platform for Source-to-Sea Management (S2S Platform) from its beginning in 2014. How has being a part of the Platform helped IUCN and in achieving your mission?
We have learnt a lot from being involved in the S2S Platform, not least the challenges of coordinating governance and communication over scales and thematic topics.  This is a new way to understand impact, not just from your neighbour, but also from hundreds if not thousands of miles away due to poor land use practices, river flow adjustments, or pollution and sediment disturbance.  All of these affect our natural systems, and in turn affect our economic activities, and so how we respond to these challenges and find solutions and ways to pay for them needs to consider the linkages along the entire source-to-sea continuum.
The major benefit of linking management approaches across the source-to-sea continuum is that it promotes activities both up and downstream, with due consideration of the potential impacts on the ecosystems, economic activities and livelihood activities.  Similarly, it promotes new cross-sectoral partnerships and knowledge generation.
The S2S Platform also provides a convening space to share and exchange learning, knowledge and research on source-to-sea management. IUCN's approach to water resources management – using an Ecosystems Approach and nature based solutions – is all about systems thinking and highlighting connectivity processes in river basins to sustain healthy ecosystems for people and nature.
Looking forward, the Action Platform on Source to Sea Management recently published its 2021-2025 Strategy, how can IUCN contribute to achieving its goals?
As a Steering Committee Member of the Action Platform, IUCN was involved in the review and finalisation of the new 5-year Strategy. We are proud that the strategy focuses on building partnerships, strengthening awareness raising and communication about the S2S approach, building capacity and implementation on the ground. These are all vital if we are to achieve our goals.
There is certainly an increased need for the source-to-sea approach. IUCN is already active in several areas such as brokering partnerships across the S2S continuum directly through our work, e.g. IUCN BRIDGE, SUSTAIN and  MARPLASTICCS projects, and has worked with S2S Platform partner SIWI in piloting the source-to-sea approach in the Vu Gia -Thu Bon River Basin in Vietnam. Additionally, IUCN has been contributing to the growing understanding of the need for and benefits of the source-to-sea approach by building evidence and stimulating action on the ground. A great example of this is the IUCN Business and Biodiversity programme which has been facilitating the use of the S2S approach by the expert panel for the Rio Doce River in Brazil.
We are also tirelessly raising awareness by leveraging our internationally recognized leadership and experience so that source-to-sea issues are included in global, regional and national agendas so that source-to-sea actions become a priority for all. By building capacities of stakeholders in river basins on systems thinking we can share visioning development and plan for upstream/downstream source-to-sea linkages.
IUCN is proud to be an active member of the S2S Platform as we work towards protecting all biodiversity from source to sea.