/
/
Young activists are raising their voices: The global community must listen
Blog
.
Oct 04, 2019
Young activists are raising their voices: The global community must listen
"Do we even have a future to look forward to?" a startling but increasingly common concern, as expressed by indigenous water activist Autumn Peltier in an interview with Vice. Autumn recently addressed the UN General Assembly telling them: "We can't eat money and we can't drink oil", highlighting the acute crisis faced by many of the First Nation communities in Canada with 56 of them currently being advised to boil their water before use or consumption.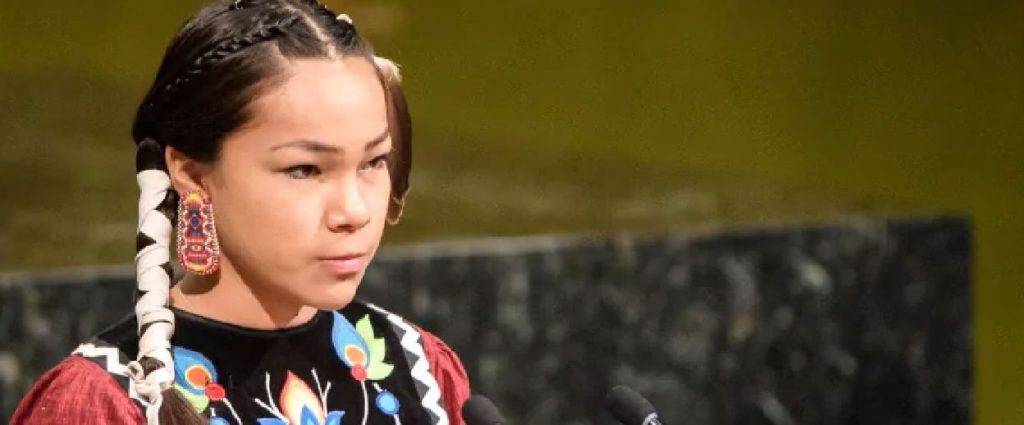 Indigenous communities continue to be disproportionately affected by climate change: a historic injustice. The sentiment of a future at risk before it has even begun is hereditary for Autumn Peltier. She took on the mantel of protecting and campaigning for her community's access to water at a young age already participating in the Children's Climate Conference, Sweden in 2015.
Three years later, at the age of 13, Autumn was a speaker at World Water Week 2018, joining the panel Indigenous people: ecosystem protection and human right where she explained what drives her activism: "Water has no voice". Lending her voice to nature's struggle is an increasing pattern amongst youth: in 2018 the Supreme Court of Coulmbia ruled in favour of  young plaintiffs ranging in age from seven to 26 who had expressed concern over the lack of care afforded to the Amazon rainforest. The Court ruled that the protection of the Amazon rainforest is a matter of rights in a monumental decision for the possible future of forest protection.
Earlier this year, WaterFront magazine wrote about the growing number of court cases involving young people demanding climate justice. In the article, Antonella Vagliente from Young Water Solutions also noted how water activism among the young have been growing over a number of years. In her work, she meets many young water entrepreneurs and has witnessed first hand the unique potential they have:  "they often have a very practical view and are quite updated on needs and trends". As well as often being entrepreneurial and informed, Antonella elaborated that young people: "are interested in applying traditional knowledge for example, through nature based solutions".
Nature-based solutions have an important role to play in making societies more resilient, but still receive disproportionately very little investment, which was discussed at World Water Week 2018 on the theme Water, Ecosystems and Human Development. The importance of nature-based solutions was recently echoed in a  film starring environmental activist Greta Thunberg and the influential writer George Monbiot.
The inclusion of young voices also facilitates sustainable solutions, Antonella Vagliente told us: "The only way we can achieve the 2030 Agenda is by involving the young".  It is the coming generations who will need to uphold and implement the processes and decisions being put into place today. A term which has been used on this topic is intergenerational equity, which essentially addresses the need for the current generation of decision-makers and actors to take into account the needs of future generations, including their need for access to natural resources. Youth is one of SIWI's cross-cutting issues and an integral part of our value system: we will not succeed in creating a water wise world tomorrow without the active engagement of young people today.
Autumn reflected on this during World Water Week: "One day I will be an ancestor and when I have great-great-grandchildren they need a clean planet and clean drinking water" she said to a spellbound audience.
The youth are raising their voices. The global community owes it to them to listen. And act.
---
Relevant links:
https://www.vice.com/en_us/article/8xwvx3/the-indigenous-teen-who-confronted-trudeau-about-unsafe-water-took-on-the-un
https://www.reuters.com/article/us-colombia-deforestation-amazon/colombias-top-court-orders-government-to-protect-amazon-forest-in-landmark-case-idUSKCN1HD21Y
https://www.theguardian.com/commentisfree/2019/sep/23/world-leaders-generation-climate-breakdown-greta-thunberg
https://www.theguardian.com/environment/2019/sep/19/greta-thunberg-we-are-ignoring-natural-climate-solutions