Large dams and human rights obligations: The Pancheshwar multipurpose project
Are large infrastructure development projects possible with maintained respect for human rights? This report discusses ways to balance between the benefits of a large dam project and the negative impact it is likely to have on local communities and other concerned parties?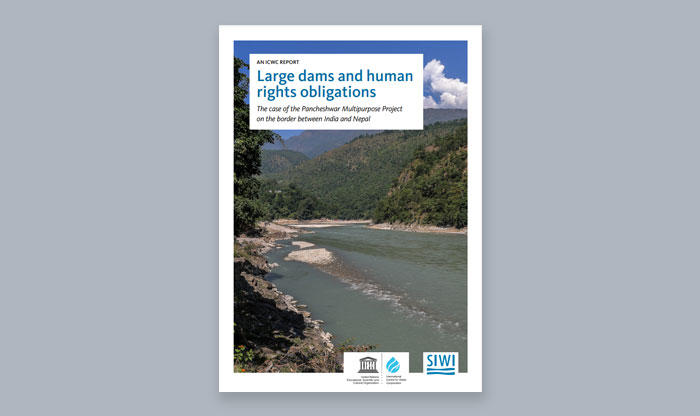 Building on the human rights-based approach (HRBA), as proposed two decades ago by the World Commission on Dams, the report analyses the transboundary Pancheshwar Multipurpose Project, on the Mahakali-Sharda River between India and Nepal.
HRBA, it is argued, can be a helpful tool when assessing large dam projects, as it provides a step-by-step method to identify rightful claims, freedoms, and entitlements. It is a value-based, people-centered way to foresee and prevent conflict by ensuring due participation and transparency in decision-making processes.
History shows us that poor or ignorant planning may lead to human rights abuses on a large scale, most commonly in the form of population displacement and the loss of livelihood and cultural heritage. There is however a different route to take, according to the report. It means that respect for human rights does not necessarily rule out large infrastructure development projects, but it will impose conditions and procedural limits on them, to the benefit of all parties.
Summary
The Mahakali–Sharda River forms part of the international border between India and Nepal. This report analyses the planned Pancheshwar Multipurpose Project, a transboundary hydropower scheme. The development of clean and renewable energy is indispensable to meet the increasing demand for electricity while limiting the impact of climate change. The planning and construction of large dams have always stirred up feelings. There are, inevitably, trade-offs between the benefits they aim to bring and the negative impacts they are likely to cause.
Some 60,000 people risk forced eviction in this case. The report, published by the International Centre for Water Cooperation at SIWI, provides recommendations on appropriate steps and mitigation measures by applying the human rights-based approach (HRBA). The human rights at stake do not prevent large infrastructure development projects from taking place, but impose conditions and procedural limits on them.
Please, help us understand your needs better
Are you reading this publication as part of a course, for work or for your own knowledge? Let us know by emailing: coms@siwi.org
Lesssons learnt
Large hydropower dams tend to have a set of negative impacts on people and the environment in the areas where they are being built. Yet, they also bring benefits from clean, renewable energy, irrigation opportunities and reduced risk for devastating floods, all of which are foundations for prosperous development and investments for present and future generations.
Trade-offs between benefits and negative impact are treated as something inevitable. In theory, there is still time to remedy and cure the human rights and fundamental freedoms that are at stake in this case, to avoid future violations and abuse. The HRBA has its limitations, though. For instance, it cannot remedy how interlinked dimensions of poverty—inequality, dignity, and deprivations—influence access to the institutions and advocacy groups that can assist in enforcing the rights of the affected.
"In recent years, hydropower has received renewed attention as a source of reliable and sustainable power supply, however, hydropower dams do not come without environmental and social costs that need to be mitigated."
"The human rights approach is useful to lay bare the rightful claims of those concerned that the states in question need to consider. It is the way in which projects such as this hydropower dam is conceived, developed, and implemented that is important."