Stockholm Water Front No 3 2014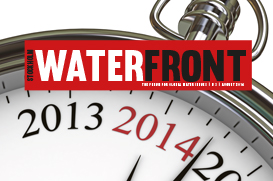 We are at the threshold of an important year. 2015 is the final year for the Millennium Development Goals, formulated by the United Nations in 2000 after the adoption of the Millennium Declaration. After varied success of achieving the eight MDGs, for the past few years the international community has been busy discussing a new development agenda and a new set of Sustainable Development Goals to replace the current setup.
In July, the Open Working Group presented the UN Secretary General with a report that will form the basis for discussions at this year's General Assembly starting in September.
World Water Week, in the first week of September, is exceptionally well positioned between these two important events, and we hope that delegates at the Week will take the opportunity to discuss the Post-2015 development agenda and water's place in it. We want to think further than the need for a dedicated water goal in the new set of Sustainable Development Goals, we should also talk about how to implement a water goal!
The Week is also about celebrating excellence. The winner of the Stockholm Industry Water Award 2014, eThekwini Water & Sanitation, has managed to realise the human right to water in the Durban metropolitan area.
By coincidence, this year's Stockholm Water Prize Laureate, Dr. John Briscoe, is also South African.
It feels very fitting, therefore, that we were recently able to announce the establishment of our first international centre, in South Africa! We consider this the first step in a wider international expansion by SIWI.