Merhaba! My name is Ahmet Ömer Erkenci. I am 17 years old, I live in Izmir and I am 11th grade student at Bahçeşehir College Izmir 50. Year Science and Technology High School. I have interests such as Software Development, Design and Aviation. While I was in high school, in 3 years, I have been in Mathematic Olimpics Team, National Scientific Research Competitions, Entrepreneurship Programs and STEM Instructor Programs…
I generally like working on projects that are integrated with science and technology that will be beneficial to the environment and the world. That's why I want to develop a system for contribute to the sustainability of water in the whole world.
Tell us what the water concern in your country is!
The datas obtained and the problems experienced show that Turkey is a country that is very close to encountering water scarcity, just like all the world. For this reason, we need to do our best to contribute to the sustainability of water like all citizens of the world.
This is what I think is one of the solutions for a sustainable future:
Me and my friend Cem also asked ourselves this question before we developed our project. Most of the usable water is used for agricultural irrigation. So, we thought that if we designed a smart and autonomous irrigation system, we could make the maximum contribution to the sustainability of water.
CONTACT WATERTANK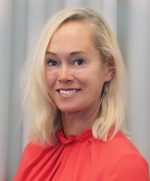 Ania Andersch
Programme manager