Hello, my name is Gleb, I am 16 years old, I live on the Kola Peninsula. Here, where I grew up, it snows almost all year round. During the Polar nights, the amazing phenomenon of the Northern Lights can be seen. Despite the harsh weather, the people here have incredibly warm hearts. And this why I consider myself as a happy person, because I have a loving family and loyal friends! I am actively engaged in sports such as karate and karting.
I have been participating in research activities since second grade. Here, on Stockholm Junior Water Prize, I am presenting my new research on the practical application of the magnetohydrodynamic effect in tidal currents of the Barents sea.
Tell us what the water concern in your country is!
The main concern is size of the country itself. It is very difficult to regulate the protection and usage of water resources in such a large territory. The other problem is the populations ' lack of awareness about the importance of preservation and rational use of water.
This is what I think is one of the solutions for a sustainable future:
I believe we could adhere to the words of Vladimir Vernadsky influential scientist who suggested to turn the biosphere into a noosphere By doing so we would not only aim to develop Biosphere to create a common future but also to change society to create the unity of humanity production
CONTACT WATERTANK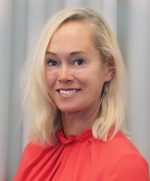 Ania Andersch
Programme manager