Unpacking freshwater's role: Climate mitigation measures in land systems
The mitigation potential of land systems, such as forests, grasslands, and agricultural systems, is closely connected to, and dependent on, the water cycle. However, many of these ecosystems are degraded and suffer from unsustainable management, leading to broken water cycles, biodiversity loss, and desertification.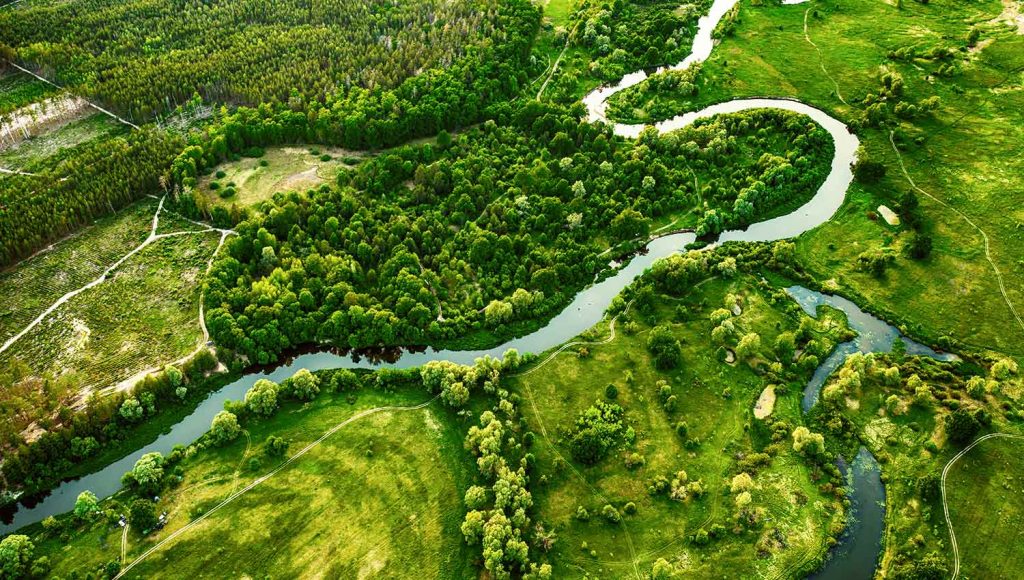 Agenda
Welcoming notes – Moderator Malin Wennerholm, Stockholm International Water Institute

Chapter presentation

–

Malin Lundberg Ingemarsson, Stockholm International Water Institute & Lan Wang Erlandsson, Stockholm Resilience Centre

W

ater insights from Nationally-Determined Contributions – David Hebart-Coleman, Stockholm International Water Institute

 

Case studies: 

 

Climate change mitigation, development and social-environmental injustices in forest frontiers

– Grace Wong,

Stockholm Resilience Centre

 

The Great Green Wall Initiative – Restoring African landscapes to support ecosystem services and livelihoods in the Sahel – Anna Tengberg,

Stockholm International Water Institute

 

Closing remarks – Line Gordon,

Stockholm Resilience Centre

 
Speakers' profiles
Malin Lundberg Ingemarsson is Programme Manager at SIWI and is working on the links between water, landscapes, biodiversity and climate change. More recently, she has coordinated the work with the report "The essential drop to reach Net-Zero: Unpacking Freshwater's Role in Climate Change Mitigation" and authored the chapter on climate mitigation measures for land systems.  
Line Gordon is the director of the Stockholm Resilience Centre. Her research integrates insights from resilience thinking, land use change, food systems, hydrology, and social-ecological systems. Gordon is an internationally recognised scientist in sustainability of water, food, and the biosphere. She conducts innovative research that combines work with small scale farmers in Africa, global models of land-use and rainfall interactions, and culinary innovators.  
David Hebart-Coleman is an environmental planning and policy expert, with over 15 years of experience in environmental policy development. His professional background is in local and regional government in New Zealand. Recently, he provided water resources and climate change adaptation services as an expert within the African Water Facility in Cote D'Ivoire. 
Lan Wang Erlandsson is a researcher at the Stockholm Resilience Centre. Wang-Erlandsson studies the role of water for social-ecological and Earth system resilience, including issues such as; What is the role of land-use for sustaining the water cycle? How does freshwater provide resilience for society and ecosystems at the local to global scale? What are the synergies and trade-offs between land, climate, and water related policy interventions? 
Grace Wong is a researcher at the Stockholm Resilience Centre. Her research focuses on ecosystem services, poverty and equity within complex social-ecological systems. Wong's work has largely converged on assessing social, economic and ecological trade-offs in tropical environments, focusing in particular on the interface of development, socio-political processes and environmental change. She has worked extensively throughout Southeast Asia and Latin America.  
Anna Tengberg is Senior Advisor for the Swedish Water House (SWH) and adjunct professor at Lund University Centre for Sustainability Studies (LUCSUS). Her works focuses on the thematic area Water for Resilient Landscapes and she is also involved in SIWI's ongoing programme in Ethiopia on Strengthening Water and Landscape Governance. 
Malin Wennerholm is programme officer at SIWI Swedish Water House. She coordinates the SWH seminars and webinars, and has arranged sessions on a wide range of water related topics, such as water resilient cities och water smart agriculture. She is lead of the SWH annual World Water Day seminar in Stockholm, Sweden. Malin also contributes to SIWIs work on water for resilient landscapes and forests
The UN 2023 Water Conference, which takes place in March this year, is an opportune moment to highlight the vital role of water in climate mitigation. Freshwater is a finite resource exposed to overexploitation and is being put under increasing pressure from the changing climate. 
The report "The essential drop to reach Net-Zero: Unpacking Freshwater's Role in Climate Change Mitigation" is the first ever summary showing the connections between freshwater and climate mitigation, and how they are inextricably linked. The report shows that water is much more important in mitigating climate change than previously understood. By considering freshwater in climate mitigation measures, water risks can be avoided, and win-win solutions for water and climate can be used to their fullest potential. 
The report is developed in joint effort by Stockholm International Water Institute (SIWI), Federal Ministry of Economic Cooperation and Development of Germany (BMZ), German Corporation for International Cooperation (GIZ), The Potsdam Institute for Climate Impact Research (PIK), United Nations Development Programme (UNDP) and Stockholm Resilience Centre (SRC).