Water governance at the 2021 Open Government Partnership Global Summit
SIWI, and its partners in the Community of Practice (CoP) on Water and Open Government, is hosting a online partner session as part of the 2021 OGP Global Summit in Seoul, Korea.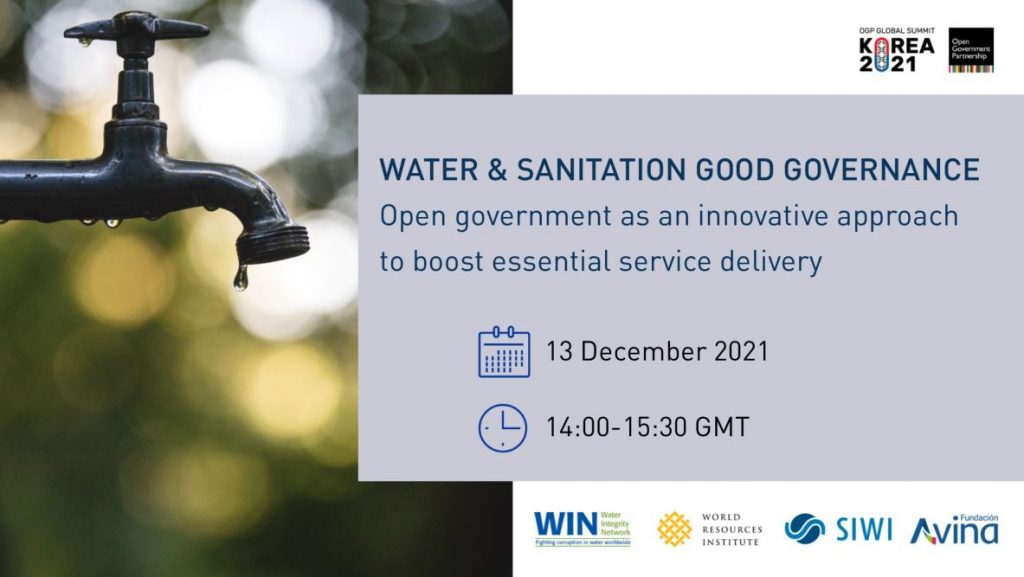 The session will focus on "how to work with open government approaches to sustainably improve essential service delivery." Specifically, it will discuss how to address root causes of issues affecting the rights to water and sanitation of millions of people around the world.
The panel and Q&A will be an opportunity to learn about promising governance approaches and the Declaration on Water and Open Government, as well as to engage practically with local experts who are implementing open government water commitments.
For more information, contact Claire Grandadam from the Water Integrity Network: cgrandadam@win-s.org
Programme
Good governance and open government for water and sanitation: what we know so far and promising approaches, with insight from:

Barbara Schreiner, Executive Director, WIN
Elizabeth Moses, Environmental Rights and Justice Associate, WRI
Panchali Saikia, Water Governance Programme Officer, SIWI

Panel discussion with implementers on open government water commitments, with insight from:

Valentine N. Mbuthia, Communications Consultant, Centre for Social Planning and Administrative Development
Isaac Aido, Development Planning Officer, OGP Point of Contact, Sekondi Takoradi Metropolitan Assembly

Q&A