A third of Africa's urban population could access groundwater through self-supply
One third of Africa's urban population is likely to use groundwater for their domestic use, according to a new study. The article, with SIWI's Dr Jenny Grönwall as one of the authors, sheds new light on the use of groundwater through self-supply that is essential in many African cities.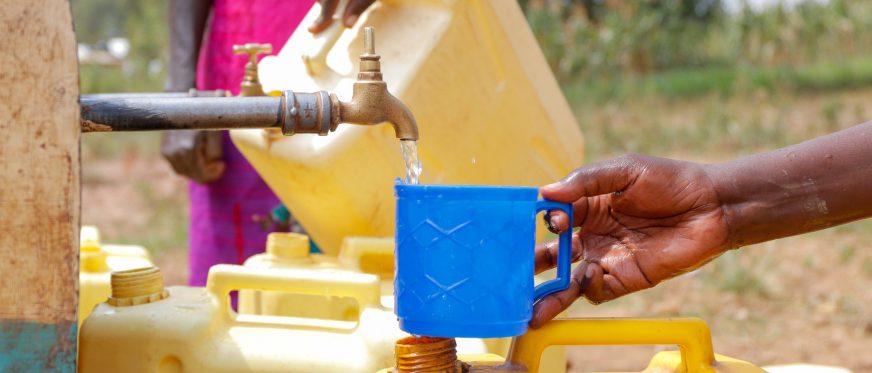 Self-supply of groundwater means pumping or hauling freshwater from shallow, dug wells and from boreholes or tubewells, or collecting it from springs. It can be the only way for people in low-income and informal settlements or in peri-urban areas to access domestic water—or it can be a way of complementing public supplies for various purposes.
Though this water is very important for the health and livelihoods and water security of individuals and society at large, it is seldom included in official water policies and it tends to receive little attention from investors. To change this, more light needs to be shone on the practices at play. This, in turn, requires more figures and data.
SIWI Advisor Jenny Grönwall and colleagues at the International Institute of Environment and Development in 2010 began assessing the use of groundwater in a number of African and south Asian cities. Their calculations showed that more than 30 per cent of the urban population depends on wells or other types of groundwater abstraction facilities as their source of drinking water.
These findings are now further explored in a new article, Estimating domestic self-supply: Groundwater use in urban continental Africa. To estimate the proportion of the population relying on self-supply, the authors use an innovative mixed-methods approach. They have developed a spatially distributed GIS method for continental Africa based on open data for, among other things, population density. Furthermore, they developed proxies for public supply network coverage and socio-economic status. The numbers were also compared with the statistics used by the Joint Monitoring Programme for SDG 6.1.
The results indicate that in 2015—the latest year with statistics from many different sources such as the Facebook Connectivity Lab—almost 370 million urban inhabitants of continental Africa could potentially supply themselves with groundwater. However, the likely number of inhabitants using groundwater obtained via self-supply was less: some 150 million.
So, while approximately 79 per cent of the urban population could in theory get domestic water from groundwater, this was only a likely option for 32 per cent.
Several reasons can explain this discrepancy. For instance, the depth to the groundwater table and the aquifer's productivity probably matters. The city of Kampala (Uganda) has imposed groundwater use restrictions so that households are neither allowed to drill nor to abstract groundwater. In Addis Ababa (Ethiopia) drilling is made very expensive by a prohibitively high customs duty on imports of drilling equipment.
This distinction between the potential and the actual likely self-supply provides essential information for decision-makers about where households source their water from, and where more groundwater could be used. It is also critical to influence public investment in information campaigns about drinking water quality questions and the importance of preserving groundwater reserves.
The use of groundwater through self-supply has received more attention recently as a way for more affluent households to go 'off-grid' and rely on groundwater to fulfill all or many of their water needs, but it should also be studied as a resource for all of society, including in informal and slum areas.
"It has been known for long that domestic use of groundwater through self-supply is common, but the extent to which it is practiced has been unknown. This new study is important because groundwater use is generally underreported in urban areas," Jenny Grönwall says.
The findings are much needed, not only in sub-Saharan Africa, as they will fill part of the knowledge gap around the use of groundwater at household level in sprawling urban environments. Among the implications of the growing demand for water from wells, boreholes, and springs are the need of planning for resource availability and protection, giving advice to improve public health, and regulating competition with other sectors.
The article Estimating domestic self-supply: Groundwater use in urban continental Africa by Rafael Chavez Garcia Silva, Jenny Grönwall, Johannes van der Kwast, Kerstin Danert and Jan Willem Foppen is published with open access in Environmental Research Letters. Dr Jenny Grönwall's work was funded by the T-GroUP project under the Unlocking the Potential of Groundwater for the Poor (UPGro) research programme. Read more about groundwater self-supply through a human rights lens here.