Almedalen: An arena for dialogue, understanding – and showing off!
There is a value in water that cannot be measured, writes SIWI's Communications Director Henrika Thomasson. In this blog post she reflects on thought-provoking meetings she had during the recent Politicians' Week in Sweden.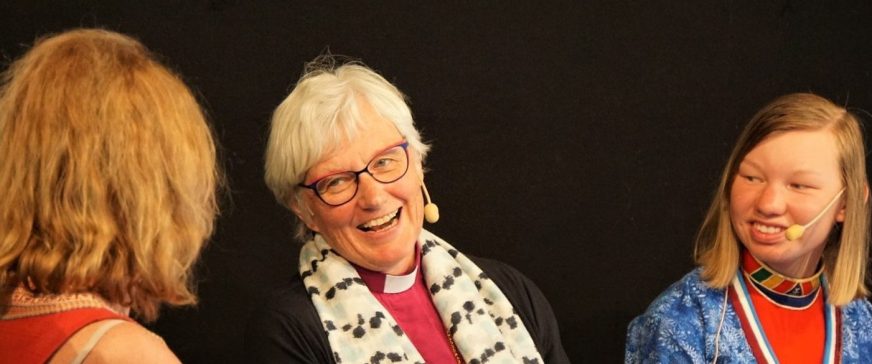 "We Sámis are using the same terrains as the skiing winter tourists. With the climate crisis, there is a growing need for making water from snow. Lower water levels in basins result in fewer mosquitos, which means less food for the birds. Mosquitos actually help us gather the reindeer, so fewer mosquitos makes our work harder. It is all intrinsically entangled and intertwined. That is a value which is hard to measure."
These were the words said by Sanna Vannar, president of the Sámi youth organization Sáminuorra, during a seminar arranged by SIWI's Swedish Water House on the value of water.
She continued: "It makes me so angry; Who has the right to set a price on water? Who can measure the value it will have for future generations?" On stage with Sanna sat the Swedish archbishop, two economists and I, also an economist, in my role as SIWI's new Communications Director.
We were totally baffled. What could we say? What could be said? We could merely agree; there is a value in water that we simply cannot capture in monetary terms. We lack effective measures to do so.
This was only one of 4,000 seminars organized during this year's political week in Almedalen, a tradition that started 50 years ago when the Swedish July summer hibernation was shaken up by Olof Palme, the renowned late Swedish Prime Minister.
He was on summer leave on the island of Gotland, when he stood up on a truck in Almedalen Park and gave a speech. The other political party leaders soon followed suit and Palme's spontaneous speech evolved into a week of daily political speeches where every party simply got a day each. All in Almedalen, Gotland.
Fifty years on, it is almost impossible not to have a presence at Almedalen week if your organization wants to have some impact on the public debate. So political representatives, business leaders, church leaders, media, NGOs and the civil society, all gather in the narrow streets of Visby. The residents of Visby rent out their houses to organizations wanting to attend. Consequently, all doors are open to visiting seminars, panels, debates and dialogues across borders. Surprisingly, few of the local residents have discovered the potential of getting close to those in power and the ease of getting in touch – nor the potential of a week's free eating (if you are into finger food and rosé wine). About 4,000 events take place with 45,000 unique visitors over the week.
Almedalen is all about showing off and the imminent climate crisis was this year's overarching theme. Organizations´ readily boast about their Corporate Social Responsibility (CSR) and their commitment to the 2030 Agenda. With the spotlight on CSR initiatives, issues which remain unaddressed or don't sound as attractive, fade into the background.
The profound attractiveness of Almedalen lies in its openness and inclusivity- anyone can talk to anyone, planned or spontaneously. And you do bump into everyone either in the narrow, cobbled streets or in the rented small backyards, full of fragrant roses. This is a place where knowledge and insights are gained, new friends are made and inspiration for what can be done is at every turn. This is a place to make an impact on the societal agenda.
SIWI's Swedish Water House participated in the week by arranging a series of seminars on the different topics we work with. On the pharmaceutical industry´s work with reducing the leakage of antibiotics out into our waters. On water and food, water and tourism, and water and the textile industry. And of course, the aforementioned seminar on the value of water.
Almedalen is a lot like World Water Week. Arranged by us all, addressed to us all. In the name of dialogue, inclusiveness and openness.