/
/
Building a stronger and more climate resilient WASH in Chad
News
.
Jun 21, 2022
Building a stronger and more climate resilient WASH in Chad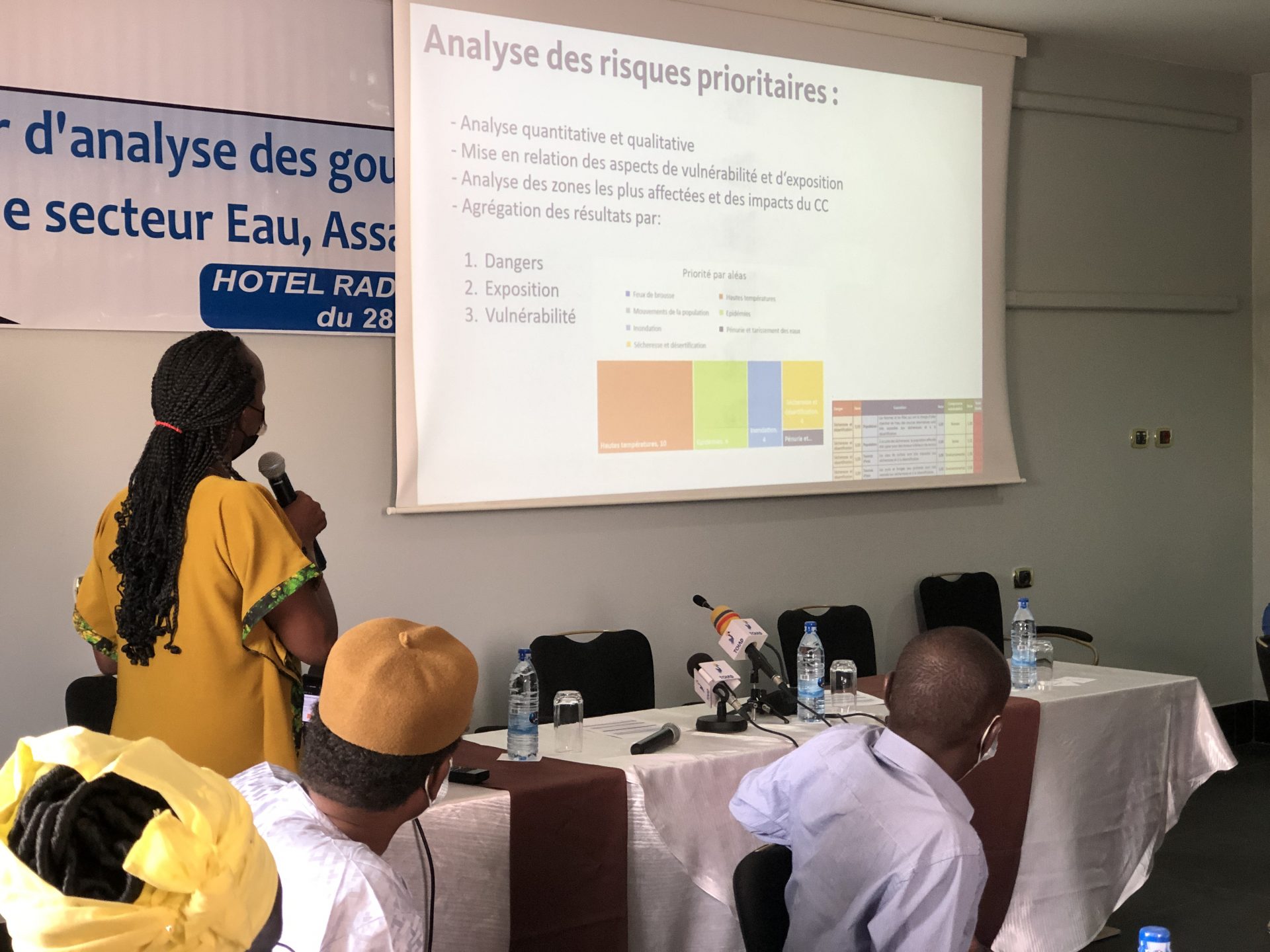 During the Chad Water, Sanitation and Hygiene (WASH) Sector Bottleneck Analysis workshop participants held sector dialogue and planned to improve WASH governance in rural and institutional settings such as schools and health centres. The action plan addresses bottlenecks in service delivery arrangement, i.e., financing, monitoring, policy and strategy, capacity development and planning, with climate resilience actions integrated throughout.
In Chad, 54 percent of the population lack access to basic drinking water and only 10 percent use safely managed sanitation. Chad ranks last out of 181 countries in the Notre Dame Global Adaptation Initiative (ND-GAIN) index. The ND-GAIN index summarizes a country's vulnerability to climate change and other global challenges in combination with readiness to improve resilience. This ranking indicates that Chad has extremely high vulnerability levels and low levels of readiness to adapt to climate change (ND-GAIN 2020) . The effects of climate change will aggravate this situation for water and sanitation service but the National Determined Contribution (NDC) recognises water resources and infrastructure as key sectors where climate change adaptation must be prioritised. UNICEF's Children Climate Risk Index places children from Chad as at the riskiest.
Water scarcity, desertification and droughts, temperature rise that may trigger new conflict and forced migration, or increases in child labor, child marriages or trafficking. On the other hand, people are exposed to increased risk of flooding and loss of essential livelihoods and other assets (incl. washed away equipment and damaged infrastructure, as well as birth, health, and other school records).
The Workshop and SIWI's intervention
At the request of the Ministry of urban and rural hydraulics and UNICEF Chad, SIWI moderated a Risk informed WASH Sector Bottleneck Analysis workshop in March 2022 in N´Djamena using the WASH Bottleneck Analysis Tool (WASHBAT) . The tool systematically identifies bottlenecks that hinder sustainable WASH service delivery and make it difficult to reach targets. Stakeholders can then define activities to remove the root causes of the bottlenecks and develop a government-endorsed action plan to implement these activities.
More than 45 national and local, government and non-government participants joined the four-day workshop and worked through a series of exercises to build multi-stakeholder consensus.
Before the workshop, a climate change risk assessment for WASH was conducted for the Chad (with a climate task force) using a methodology developed by GWP and UNICEF , in which risks result from the interaction of hazard, vulnerability, and exposure. The exercise focused on the impact of climate risks on WASH infrastructure and services, including water sources and users. The assessment showed that risks related to drought, flooding, and water scarcity were most prioritized across Chad. The analysis indicated that specific population groups are exposed to more than one climate risk and are thus the most vulnerable. As such, they are subjected to lower levels of water services.
Importantly, the climate-risk analysis proposed to the WASH BAT deliberations insists that exposure and vulnerability to climate variability is socially constructed through multiple underlying and interconnected risk drivers that include environmental degradation, poverty and inequality, and badly planned water management and rural development. In many respects, climate change intensifies pre-existing challenges for the Chad population.
At the end of the WASH BAT workshop, the participants agreed on an action plan to address bottlenecks in four sub-sectors with climate resilience actions integrated throughout.
This plan has five pillars:
Promote the financial sustainability of the sector and services;
Strengthen institutional roles in the water, sanitation and hygiene sector;
Orderly sector and service planning, through appropriate policy regulation;
Capacity building to develop skills from the perspective of a water culture policy in (i) the management of water and sanitation services, at the institutional level and among service providers; (ii) in risk management, as well as in mitigation, adaptation, resilience and consequences, and (iii) in the population's knowledge and ownership of existing regulations and laws;
Establish coordination and cooperation mechanisms at central and decentralized levels. Finally, the need to create a monitoring and learning committee to follow up on the implementation of the agreed activities
The workshop brought together most of the key stakeholders in Chad WASH and climate sector and reinvigorated sector dialogue. Participants gave very positive feedback and felt the workshop was a valuable exercise.
At the end of the workshop, the participants signed a declaration form with the intention for all partners to commit to jointly supporting the successful implementation of the prioritized action plan for building climate resilient WASH services in Chad and supporting the inclusion and strengthening of climate-resilient WASH any new WASH programme.
WASH-BAT
This online tool, "WASH BAT" or WASH Bottleneck Analysis Tool, was developed to support the drinking-water, sanitation and hygiene (WASH) sector to reach the Sustainable Development Goals. The tool enables the development of costed and prioritized plans to remove the bottlenecks that constrains progress in the WASH sector. It was created and developed by UNICEF with help from SIWI and other partner organizations.
Learn more