/
/
Celebrate the fantastic Stockholm Junior Water Prize winners
News
.
Aug 24, 2021
Celebrate the fantastic Stockholm Junior Water Prize winners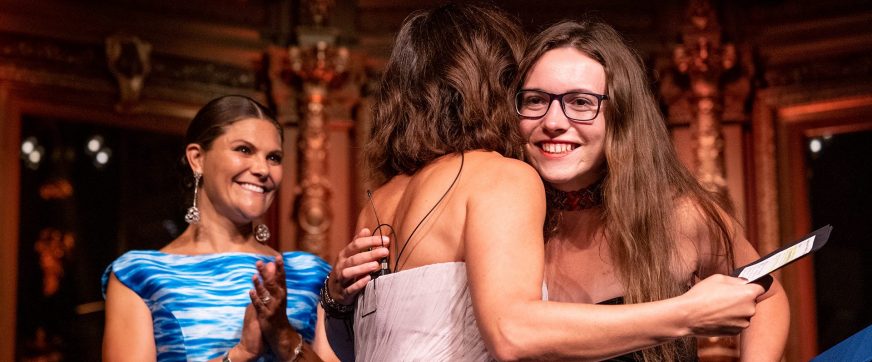 The 24th of August is a very special day – today the winner of the Stockholm Junior Water Prize is announced at a both fun and festive online award ceremony with H.R.H. Crown Princess Victoria of Sweden who is Patron of the prize. Join us to celebrate this year's winners as well as the Prize itself which is awarded for the 25th time. 
The Stockholm Junior Water Prize's Award Ceremony takes place Tuesday 24 August at 2pm CEST. To follow it, you must be registered to the digital conference World Water Week (23-27 August) – here you can sign up for free.
The Stockholm Junior Water Prize is an international competition for innovators between 15 and 20 years of age who have developed solutions to major water challenges. Many of the projects that compete in the contest are put to use and can change the lives of both the inventors and their communities.
The 2021 winner is selected by a jury of distinguished water experts who also award a Diploma of Excellence among the 32 competing teams from all over the world. During the award ceremony, the Prize's Patron H.R.H. Crown Princess Victoria of Sweden will announce the winner. We will also learn who won receives this year's People's Choice Award. So tune in at 2pm CEST!
But of course World Water Week has much more to offer – check out the full programme and register here. You can also purchase a Networking Pass so that you can actively engage with participants from 170 countries and leading experts from major international organizations, universities, and companies. With a Networking Pass you get a visible profile at the event and can actively contribute to change. It is a great way to expand your network and meet interesting people who might otherwise never cross your path.
On Tuesday 24 August, we have a lot in store for you:
There are 91 different sessions for you to choose between today, starting at 7am CEST. Whatever you're interested in, there should be something for you. Browse the programme and take your pick.
Don't miss today's six networking sessions (available with a Networking Pass) where you can engage in Speed networking (at 12.10pm CEST) or discuss the five challenges at the core of the Week in the Collaborate sessions: Transforming our Value Chains (9.10am CEST); Rethinking Our Cities (4.10pm CEST); Working Together with Nature (4.10pm CEST); Building Resilient and Fair Societies (8.10pm CEST) and Investing in Systemic Change (11.10pm CEST).
On 24 August we will bring you two episodes of SIWI Corner. One focuses on Language and Behaviour Change, (9m CEST) with both a light-hearted look at the language used at World Water Week and a more serious dive into how language and communication can help us change the world. After the Stockholm Junior Water Prize, we have a SIWI Corner on Youth and Innovation (5pm CEST).
SIWI's Scientific Programme Committee is organizing nine three-part seminars during the Week to further explore this year's theme Building Resilience Faster. Check the programme for sessions tagged Seminar.
Not registered yet? Sign up here.
If you have registered for World Water Week 2021 you should have received a welcome email – if not, please check the spam folder of your inbox. Still no sign of a registration email (though you are sure that you did register)? Contact us at wwweektickets@siwi.org.
With the link in the registration confirmation, you can easily upgrade to get a Networking Pass if you don't already have one.