/
/
Event at HLPF emphasizes source-to-sea approach
News
.
Jul 20, 2018
Event at HLPF emphasizes source-to-sea approach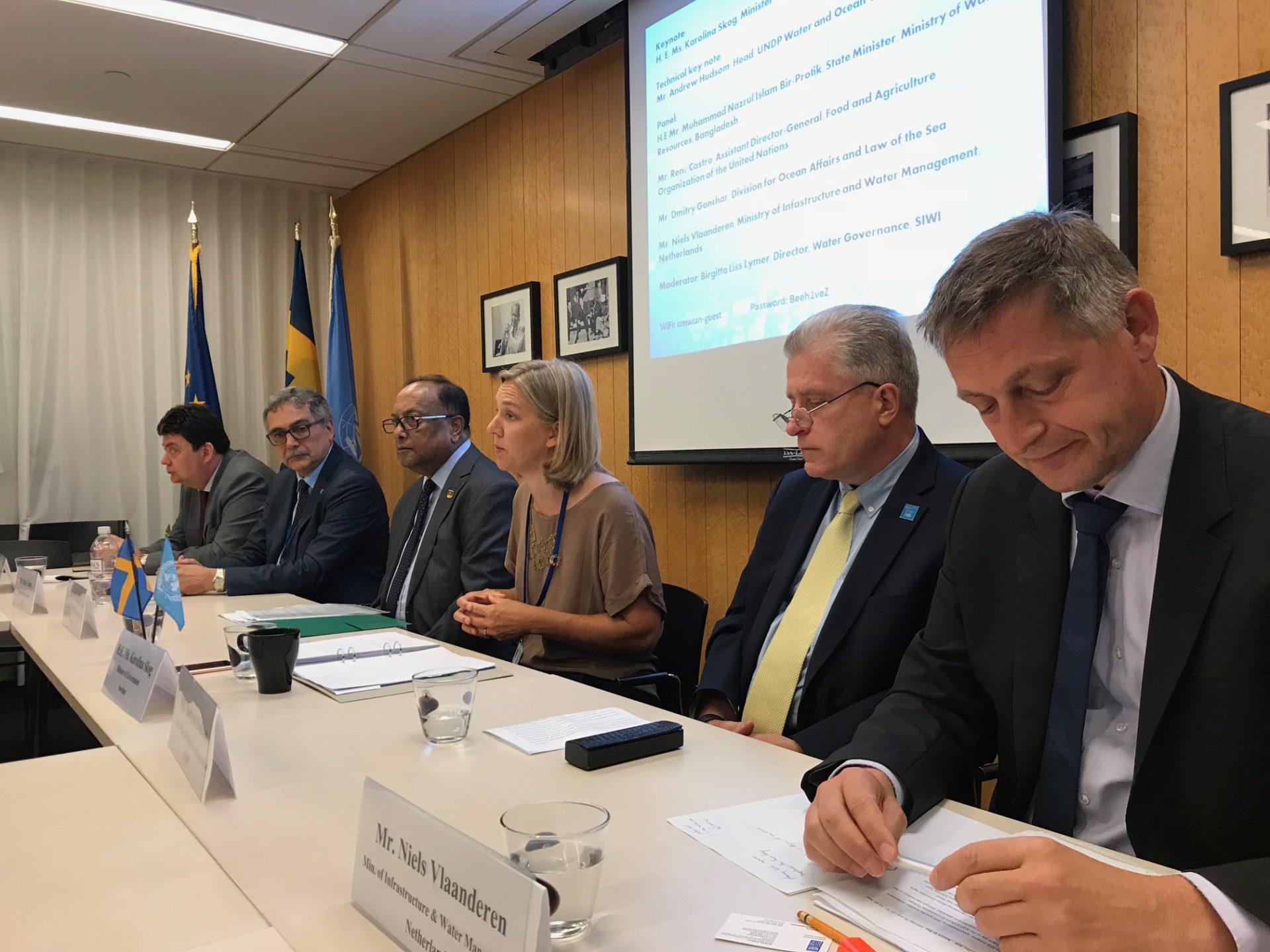 Source-to-sea priorities must be addressed in order to make the most of SDG 6 implementation.
The importance of integrating source-to-sea priorities as part of SDG 6 implementation was highlighted at a side-event organised by SIWI and the Action Platform for Source-to-Sea Management in connection with the 2018 High-Level Political Forum. Following the Ocean Conference last year where the need to address land-based activities was very prominent and the declarations from the 8th World Water Forum and the Dushanbe Conference, both emphasizing the need to adopt source-to-sea approaches as part of water management, Karolina Skog, the Swedish Minister of Environment announced that she will be launching a "High Ambition Alliance to work towards a global deal on Chemicals and Waste, beyond 2020". Working holistically, and in line with a source-to-sea and transboundary approach has long been an interest of the Minister of Environment, making the announcement of this new alliance even more promising.
The significance of transboundary cooperation that addresses source-to-sea priorities, in particular, management of sediment flows was highlighted by the representatives from two "delta countries": Netherlands and Bangladesh. Mr. Muhammad Nazrul Islam Bir-Protik, State Minister of Water Resources in Bangladesh, stated, "Sediment flows are a major issue in Bangladesh – it clogs our rivers but also creates land in the delta. However, Bangladesh only controls 7 per cent of the river basin it belongs to. Without transboundary cooperation, Bangladesh has no control of the water and sediment flows it receives".
"If we cannot stabilize climate change at +2 degrees, we have no future. A more sustainable water management in agriculture is absolutely critical to be able to achieve this," stressed René Castro, Assistant Director General of FAO. His weighty statement emphasizes the critical role of managing water from source-to-sea in the massive effort required to feed a growing global population while significantly reducing carbon dioxide emissions and dealing with the negative impacts from climate change that are already upon us.
At the side-event, speakers stressed the need to shift from linear to circular economies and to make sure that transition also brings source-to-sea benefits. Andrew Hudson, Head of the UNDP Water and Ocean Governance Programme, highlighted the need for nutrient re-capture, "About 15 billion dollars' worth of nutrient resources are being flushed away yearly. At the same time, the resulting eutrophication and spread of dead zones in our coastal and marine water are one of the main challenges facing our coasts and oceans."
Transforming nitrogen management through making use of available instruments like nitrogen emission taxes, subsidies, best agricultural practices and innovative toilet designs could bring significant benefits from source to sea.
Global challenges, like those of poor water quality, plastics in oceans, sinking deltas, rising food requirements and nutrient management, need to be dealt with through global frameworks and partnerships. The Action Platform for Source-to-Sea Management brings together a wide range of institutions working together to support coordinated and innovative approaches to governance and management from source-to-sea.
Making the most of SDG 6 implementation – for benefits from source to sea was organized by SIWI and the Action Platform for Source-to-Sea Management and co-hosted by Sweden, Ministry of Environment and Energy, UNDP, FAO and Delta Alliance. Speakers included H.E. Ms. Karolina Skog, Minister, Ministry of the Environment and Energy, Sweden, Mr. Andrew Hudson, Head, Water and Oceans Governance Programme, UNDP, H.E Mr. Muhammad Nazrul Islam Bir-Protik, State Minister, Ministry of Water Resources, Bangladesh, Mr. René Castro, Assistant Director-General, Food and Agriculture Organization of the United Nations and Mr. Niels Vlaanderen, Ministry of Infrastructure and Water Management, Netherlands.