Follow SIWI to the UN 2023 Water Conference
SIWI will play an active role at the UN 2023 Water Conference and its sister event the New York Water Week. Learn about our solutions, messages, events, and the SIWI experts who will push for stronger water action on site in New York.
The UN 2023 Water Conference is historic, being only the second time the United Nations has organized a global freshwater conference. The last conference was held back in 1977, when the planet had only half as many inhabitants and few people had heard of the global water crisis or climate change. 
So far, interest in the conference seems great, with thousands of people set to travel to New York where the conference will be held at the United Nations headquarters. Running from the 22 to 24 March, the UN 2023 Water Conference will feature 550 side events in addition to the plenaries and interactive dialogues. A few days earlier on 18 March, the New York Water Week kicks off with more than 100 sessions to raise awareness of different water issues.  
SIWI will play an active role in both formal and informal meetings, as event organizers and as speakers in events organized by others. We will do everything we can to foster collaboration around the Water Action Agenda and strengthen the collective movement for good governance, water centred climate action, source-to-sea management, and transboundary water cooperation.  
In addition to helping other actors implement initiatives launched as part of the Water Action Agenda, we have committed to offer World Water Week as an arena to drive action forward, year on year. Learn more about how World Water Week will contribute. 
Our events
SIWI will organize both official side events and other activities to draw attention to topics like how cities can use water to find climate solutions, the role of indigenous knowledge, gender perspectives, transboundary cooperation, and how art can contribute to achieving SDG 6.  
See a full list of SIWI events
Our messages
In the lead-up to the UN 2023 Water Conference, SIWI is advocating for five guiding principles that could help us address the global water crisis and build more resilient societies. It is critical to:
Use water as a tool in both climate mitigation and adaptation.

 

Restore the water cycle from source to sea.

 

Improve water governance to achieve universal health.

 
Promote transboundary cooperation to strengthen water security.

 

Ensure that water governance is inclusive.
Learn more about SIWI's messages to the UN 2023 Water Conference
Our commitments
The SIWI has made nine commitments to the Water Action Agenda, with a focus on different ways to strengthen collective action. Read more about our commitments.
Our experts
SIWI will send a delegation of ten colleagues from different parts of the organization to attend the formal conference, with additional experts contributing to side events and consultations. Here you see our team and how you can connect with them.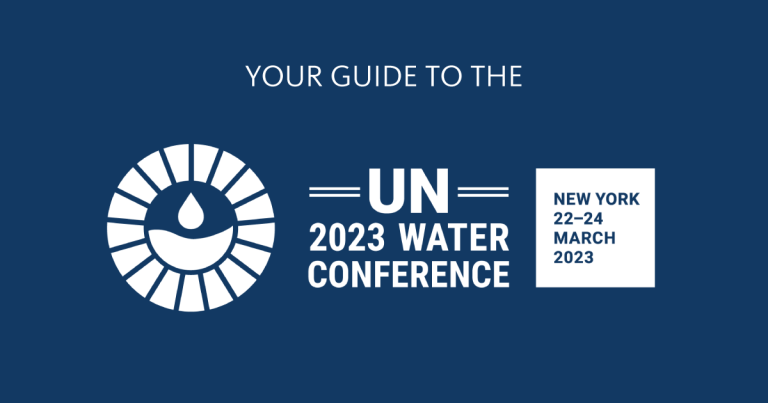 Your Guide to the UN 2023 Water Conference
Get a quick overview of what the UN 2023 Water Conference is and what to expect.
Download your guide
Special newsletter next week
Back by popular demand, our regular SIWI newsletter will next week transform into WaterFront with special updates and coverage from the UN 2023 Water Conference – don't miss this chance to get first-hand insights and analyses. Sign up now for SIWI's newsletter if you're not already subscribed.  
Follow SIWI to New York
On 22-24 March, the United Nations headquarters in New York will host a historic conference on freshwater. SIWI will play an active role to ensure that countries finally tackle the urgent water crisis and deliver on commitments already made.
Learn more about our position and activities