/
/
GoAL WaSH supports knowledge exchange to solve WASH problems in Great Chaco, Paraguay
News
.
Dec 21, 2015
GoAL WaSH supports knowledge exchange to solve WASH problems in Great Chaco, Paraguay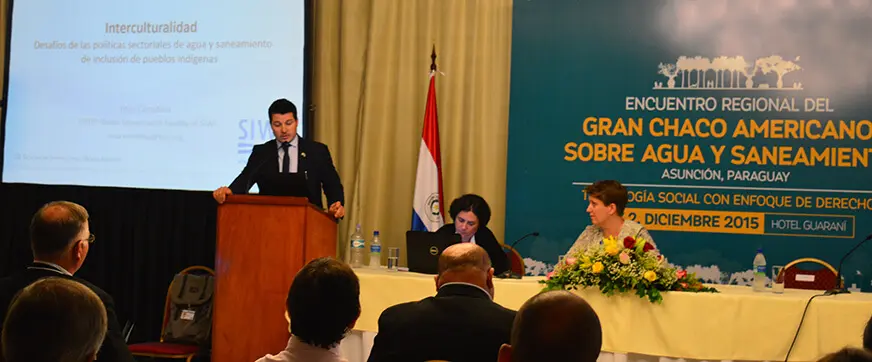 Indigenous peoples, NGOs and academia met with local and national governments in Asunción, Paraguay, October 1-2, to explore innovative and sustainable WASH solutions for the Great Chaco region. The GoAL WaSH programme supported the event and presented recommendations about how to implement an intercultural approach in WASH programmes, enabling projects to find environmentally, culturally and economically appropriate solutions.
The population living at the large plains of the great Chaco region, shared by Argentina, Bolivia, Brazil and Paraguay, suffer increasingly from devastating water related natural disasters; local governments often having to deal with drought and flooding at the same time. Estimated to live in a constant state of emergency the population in the Chaco region is characterised by great diversity, with 14 indigenous peoples living side by side with cattle ranchers and Mennonite settlements.
The conference Encuentro Regional de Agua y Saneamiento del Gran Chaco Americano gathered more than 80 participants from national and local governmental, NGOs, local communities and researchers to exchange WASH experiences and innovative ideas, taking the first steps towards more sustainable and inclusive WASH interventions.
The GoAL WaSH programme supported the organisation of the conference and Roberto Acosta, from the Department for Water and Sanitation (SENASA), within the Ministry of Water presented the programmes' work to strengthen sector coordination through the Chaco Water and Sanitation Work Group (MIAS Chaco).
Moa Cortobius presented the Water Governance Facility's recommendations for intercultural approach to WASH projects in rural indigenous peoples' communities. An intercultural approach, built on dialogue and mutual respect and trust, enables projects to find long-term solutions that are appropriate for the environmental, cultural and economic conditions.
She also met with the local government and NGOs in Filadelfia, in the Chaco district Boquerón, to discuss strategies to counteract the history of short-sighted and inappropriate WASH investments by national and international actors, granting Chaco the title 'the graveyard of projects.'
The GoAL WaSH programme is highly appreciated for its focus on improved governance, an often overlooked building block for sustainable, inclusive and effective WASH interventions. Yet, the challenges remain multiple and complex, in particular with regard to reaching equitable and long-term access for Chaco's indigenous peoples.