/
/
I am Nargis: A character born in Bangladesh during the pandemic
News
.
Oct 12, 2021
I am Nargis: A character born in Bangladesh during the pandemic
Washing your hands could save your life. Global Handwashing Day emphasises the importance of handwashing in disease prevention. In a first of its kind, garment workers in Bangladesh get their own fictional character, to raise awareness on personal hygiene and safety during Covid-19.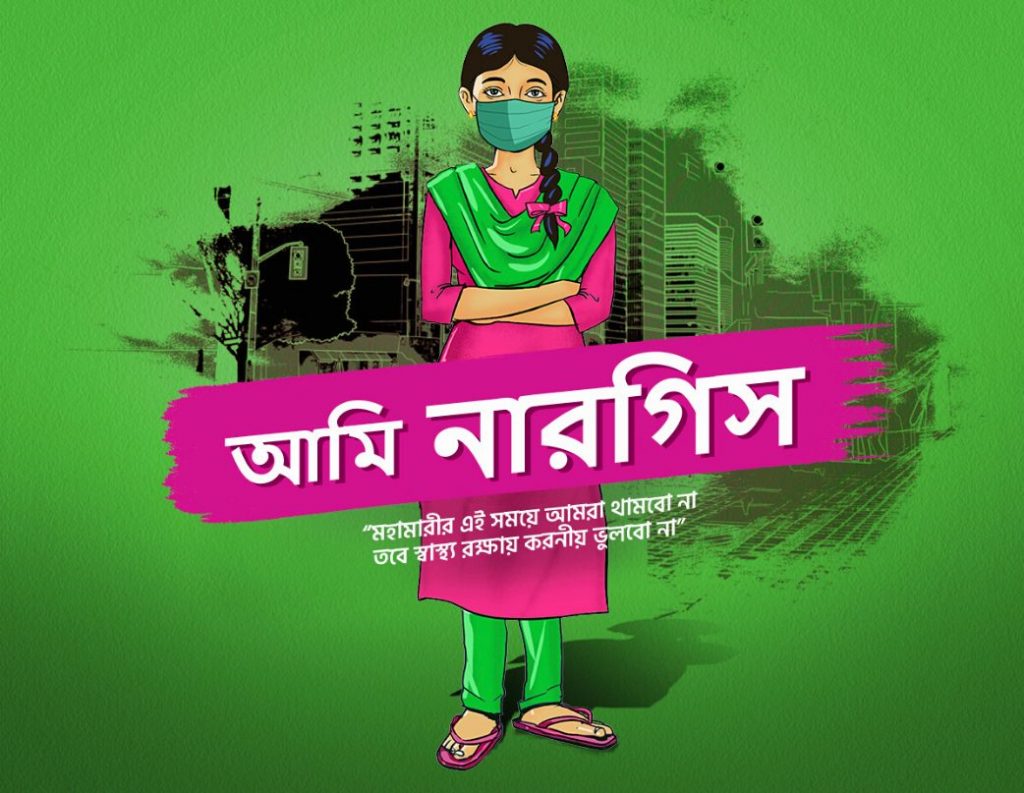 The pandemic has seen an outpour of awareness initiatives on personal hygiene through handwashing. One of which was 'Ami Nargis' or I am Nargis, a campaign catalysed by Covid-19 for garment workers in Bangladesh. Nargis is a young female garment worker, a fictional character, whose voice is intended to reach over 2000 garment workers. "Our audience is not used to processing information and messages in the same way as literate people. Being from the community, Nargis can actually demonstrate what to do with our messages", says Nazir Hussain, the creator of Nargis. The campaign is led by Deutsche Gesellschaft für Internationale Zusammenarbeit in partnership with the Sustainable Textile Water Initiative of Stockholm International Water Institute.
Nargis provides the advantage to create situational awareness  
Hussain says that having a central character allows them the freedom to go beyond, and the campaign can constantly evolve and adapt. "She is the ambassador of change, she is up-to-date, and knows technology." Nargis is now talking about precautions against dengue. Alongside covid-19, there are reports of a surge in dengue cases in Bangladesh.
The campaign tells stories to spread its key messages using a series of 'episodes' depicting behaviour in the factory and within the community itself – basic handwashing, social  distancing, wearing masks, and getting vaccinated. Nargis interacts with people through a social media page. In addition, digital hubs have been set up near factories and residential locations of Dhaka, Gazipur and Chattogram. Hussain says that "[The hub] works as a bridge to bring the workers to our social media pages." Volunteers show them how to use social media and receive regular updates on their phones. The hubs are decorated with posters on handwashing and distancing which are a daily reminder for passers-by. Lin Zhao, Country Manager for the Sustainable Textile Water Initiative, sees this as an opportunity to include the rest of the community who are not working in garment factories. Nargis is soon set to debut on the radio, as well as a television show.
Incentivizing behaviour change
While Nargis has successfully demonstrated how to improve hygiene, monitoring how people behave on a daily basis is a challenge. One solution to this is inviting factory workers to the television show, who will be quizzed in return for prizes. Tasneem Bashir, Sustainable Textile Water Initiative Country Coordinator for Bangladesh says, "They need to show us that they are wearing masks and maintaining social distance, the prizes are not for free."
'Covid fighters' have been appointed from the garment worker communities who monitor behaviour change on the ground. The impact of the campaign will be a continuous  assessment. Over 800 workers in 127 factories have been reached so far. Tasneem  envisions Nargis as a long-term friend for the community just like Meena has been for many in Bangladesh, vocalizing for gender, health, and social inequality through UNICEF.
Placing Nargis as a role model in the community of garment workers, SIWI aims for  continuous positive impact in the textile industry. The campaign reinstates the value of local collaborations for international development, by drawing on regional knowledge and experience.