Indigenous knowledge is crucial for the success of the UN 2023 Water Conference
Indigenous knowledge will be prominent at the UN 2023 Water Conference, hopes SIWI's expert David Hebart-Coleman. Here he explains why this is so important and what he himself will be doing in New York.
David Hebart-Coleman is a seasoned water management expert with a strong interest in how different value systems and kinds of knowledge influence water decisions, not least the importance of indigenous perspectives. He is enthusiastic about the fact that Indigenous Peoples perspectives are increasingly heard in international processes, including in the lead-up to the UN 2023 Water Conference.
"Indigenous knowledge is really needed at the UN 2023 Water Conference and many people will speak up," David Hebart-Coleman says, pointing for example to the formation of an Informal Reference Group on Water and Indigenous Peoples.
Ahead of the conference, there is also an Indigenous' Peoples pre-summit, which represents an important opportunity for Indigenous Peoples to network and share experiences. "While no one disputes the central role that water plays in many of our social and economic systems, the scale of water challenges in many parts of the world suggests that a change in our relationships with our water bodies, whether lakes, aquifers, rivers, wetlands, or other freshwater ecosystems is needed. It is for this reason that it is important that many Indigenous Peoples from around the world are making their voices heard in the UN 2023 Water Conference," David Hebart-Coleman says.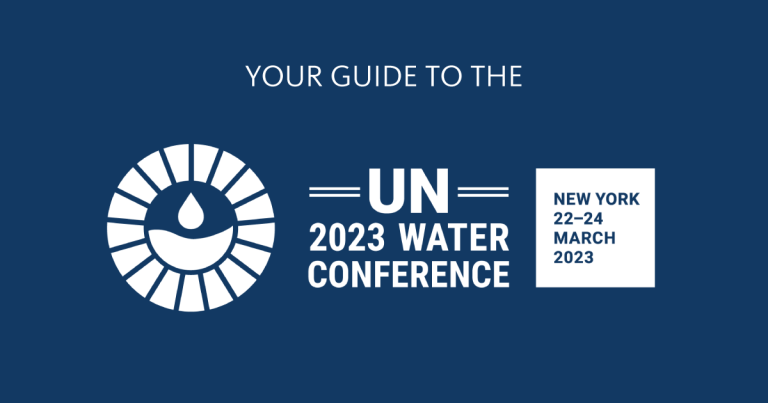 Your guide to the UN 2023 Water Conference
Get a quick overview of what the UN 2023 Water Conference is and what to expect.
Download your Guide
"This is important as many Indigenous Experts are water experts, drawing upon years of experience. The conference has the potential to catalyze shifts in the relationship between people and their waters."
Indigenous Knowledge events
There are many sessions led by Indigenous Peoples, or having a strong presence from Indigenous Peoples, throughout the Conference. Here are some of the events that SIWI is involved with:
In UNHQ
Indigenous Knowledge and practices on water resource management are key drivers for "Water for Sustainable Development". Led by the Asian Indigenous Peoples Pact. Wednesday 22 March, 09:30 – 10:45 EST, UNHQ, Side Event Room C.
The Role of Indigenous People in Governing Shared Waters, Led by the Water and Tribes Initiative. Wednesday 22 March, 14:00 – 15:15 EST, UNHQ, Side Event Room A.
External Side Events
Joint Commitments to transforming water governance, climate adaptation and biodiversity: Indigenous Peoples, Member States and the UN system. Led by Fund for the Development of Indigenous Peoples of Latin America and the Caribbean and UNESCO, Thursday 23 March, 13:30 – 14:45 EST, UNDP offices, Doha Conference Room (304 E 45th st, 11th Floor), New York, USA.
Decolonizing water governance through Indigenous knowledge, self-determination, and relationships with water.  Co-organised by Carcross/Tagish First Nations, Himalayan Peace Foundation and United Nations Academic Impact (UNAI) Hub for SDG 6 at University of Manitoba. Nature Hub at APELLA