Invitation to join water cooperation seminar in Paris
April 16, the seminar "Water for Peace or Conflict? - Prospects for improved water cooperation" will take place in UNESCO's headquarters in Paris. SIWI's Anders Jägerskog will participate as a panellist. There are still spots open for those who are interested.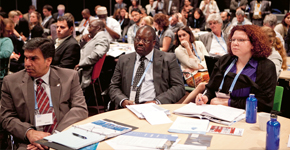 The seminar's objective is to draw attention to pertinent issues related to international water cooperation: what are the challenges to be addressed and what are the immediate actions to be taken in order to favour water cooperation?
To contribute to UNESCO's work in addressing the global challenges through water programmes, the Swedish Government has proposed the establishment of a new UNESCO Category II International Centre on Water Cooperation, taking opportunity of Sweden's long term international engagement in this field.
The outcome of the event will be further discussed during the World Water Week in Stockholm, 1-6 September 2013.
Click here to view Anders Jägerskog's seminar presentation on global water cooperation.