/
/
Iran: First in person training on a water, sanitation and hygiene tool (WASH BAT)
News
.
Jun 29, 2022
Iran: First in person training on a water, sanitation and hygiene tool (WASH BAT)
SIWI was recently invited by UNICEF to moderate a 'training of trainers' multi-stakeholder workshop in Tehran, to assist the Ministry of Energy and Water and Sanitation company at national and provincial level about their knowledge of useful tools to help catalyse sustainable WASH sector performance improvements.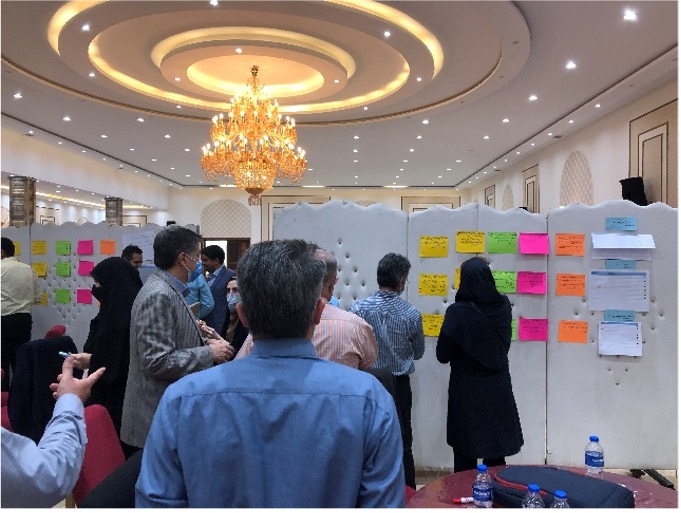 The Water Sanitation and Hygiene Bottleneck Analysis Tool (WASH BAT) makes it possible to systematically identify factors (bottlenecks) that hinder sustainable WASH service delivery and make it difficult to reach WASH targets. Stakeholders can then define activities to remove the root causes of bottlenecks and develop a government endorsed action plan for implementation of the activities.  The tool was created and developed by UNICEF, with inputs from SIWI and other global sector partners.
SIWI was recently invited by UNICEF to moderate a Training of Trainers multi-stakeholder workshop in Tehran held in May 2022. The training gathered approximately 40 practitioners (experts) who are now equipped with the knowledge to be able to support full replication of provincial and national led and owned WASH BAT analyses.
During the workshop participants were guided through the WASH BAT by way of a simulation exercise, with all participants able to try out the tool, and with some participants acting as moderators, facilitators and rapporteurs. The focus of the simulation was at the national level on rural sanitation and water and hygiene in peri-urban settings. The largely regionally based participants at national and provincial level (service providers in 8 provinces: Ilam; Sistan and Baluchestan; Ardebil; Kerman; Golestan; Tehran; Khorasan Razavi; Isfehan)  government agencies (Ministry of Energy and Ministry of health), and UNICEF Country Office were able to gain some insight into the potential value of  the tool for full replication in their respective regions.
The focus of the training was both on accountability mapping, using the accountability triangle (drawing relationships between state, users and service providers in order to understand roles and responsibilities), and the WASH BAT. Participants were able to simulate exercises to identify a) the ideal roles and responsibilities of different actors within the sector and b) the bottlenecks that hamper optimal sector development.
Back in 2021, an online WASH BAT training was conducted for about 25 national and provincial stakeholders. Five provinces conducted a pilot WASH BAT in their provinces at end of 2021. During one session, four provinces (that already applied the WASH BAT as pilot) shared their experiences and lessons learned, we discussed and clarified some concept and process.
On the last day, some lessons were shared from the WASH BAT implementation in Bangladesh, Pakistan and Iraq. The Risk Informed WASH BAT methodology was also introduced before moving to the conclusion and way forward. The participants highlighted the importance of using this tool to address the challenges in Islamic Republic of Iran for the WASH sector. The participants recognized how a strengthened enabling environment is critical to achieving national WASH targets.
The outcome
The professionals are now trained and qualified to replicate the full workshop and analysis independently at national and regional level, with little to no external support from UNICEF or SIWI. Soon to be outlined the national WASHBAT supported by UNICEF will very much rely on these trainers with an aim to directly input its outcomes to the National WASH planning.
The mission has strengthened SIWI´s position in relation to its expertise on WASH governance especially as a WASH BAT facilitator in the country. Participants were highly satisfied with the content of the training and the moderation.
In conclusion, there is a proposal to conduct a WASH BAT training at the national level later this year to identify key challenges before moving to the implementation phase at the provincial level. Such an engagement would help with adapting of functions and criteria to the Iranian context.