/
/
New action plan to strengthen climate resilient WASH services delivery in Tanzania
News
.
Mar 20, 2020
New action plan to strengthen climate resilient WASH services delivery in Tanzania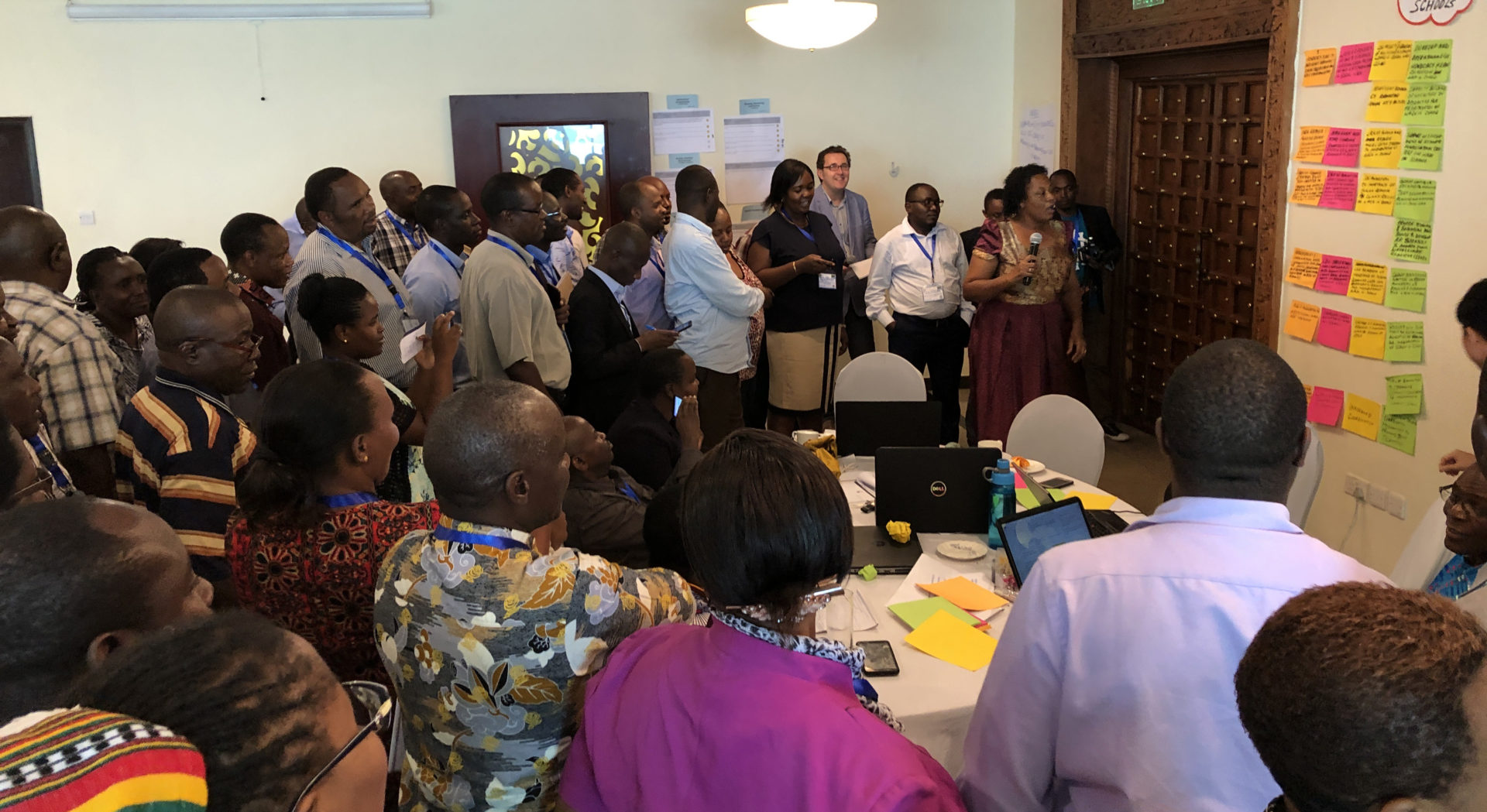 The action plan addresses bottlenecks in financing, monitoring, evaluation and learning, capacity development and planning, with climate resilience building actions integrated throughout.
At the Tanzania Water, Sanitation and Hygiene (WASH) Sector Bottleneck Analysis workshop participants reinvigorated sector dialogue and set out a plan to improve WASH governance for improving WASH services in rural and institutional settings such as schools and health centres.
Background/context:
In Tanzania, 43 percent of the population lack access to basic drinking water and only 25 percent use safely managed sanitation[1].  There are also serious concerns about water supply services. In 2016, 40 percent of rural water points didn't work, with many failing in the first year after construction[2]. Climate change will only aggravate this situation and the National Climate Change Strategy[3] recognises water resources and infrastructure as key sectors/themes where climate change adaptation must be prioritised.
A number of policy and institutional challenges have limited progress in the WASH sector[4], including prioritisation of infrastructure development over resolving institutional challenges and establishing sustainable services, the absence of a national sanitation policy, as well as capacity limitations to plan, implement and monitor water supply programmes.
These challenges are compounded by the recent drop in contributions to pooled funding under the WASH Sector Wide Approach (SWAp), with development-partners reducing their payments due to low implementation and compliance with financial mechanisms. Sector dialogue has also been reduced recently since the government relocated to Dodoma, while development partners remained in Dar Es Salaam.
The Workshop/SIWI's intervention
At the request of the Government of Tanzania and UNICEF Tanzania, the UNDP-SIWI Water Governance Facility moderated a WASH Sector Bottleneck Analysis workshop in January 2020 in Dar Es Salaam using the WASH Bottleneck Analysis Tool (WASHBAT)[5]. he tool systematically identifies bottlenecks that hinder sustainable WASH service delivery and make it difficult to reach targets. Stakeholders can then define activities to remove the root causes of the bottlenecks and develop a government-endorsed action plan to implement these activities.
More than 70 national and local, government and non-government participants joined the three-day workshop and worked through a series of exercises designed to build multi-stakeholder consensus. Prior to the main workshop, a team of over 20 local experts received training in the WASHBAT workshop approach. They then used these new skills to support the main workshop.
At the end of the workshop, the participants agreed on an action plan to address bottlenecks in four sub-sectors with climate resilience building actions integrated throughout. This plan was then presented by representatives from each sub-sector working group to high level representatives from Presidents' Office, Regional Administrative and Local Government (PO-RALG) the Director of Preventive Health Services at the Ministry of Health, Community Development, Elderly and children.
Actions related to financing and monitoring, evaluation and learning accounted for almost half of the 30 actions included in the plan. Capacity development and planning related actions accounted for a further quarter of the 30 actions. A number of climate resilience building actions were proposed, including finalising the National Adaptation Plan, formulating water reuse guidelines and monitoring measures to better understand impacts of climate change on WASH services and progress of mitigation and adaptation activities.
The workshop brought together most of the key stakeholders in the Tanzania WASH sector and reinvigorated sector dialogue. Participants gave very positive feedback and felt the workshop was a valuable exercise. The government and external support agencies may now adopt the action plan to develop and improve sector performance. The approach could be replicated at regional and district level, drawing on the skills of the participants who received training in how to facilitate the tool.
[2] World Bank (2018) Reaching for the SDGs, The Untapped Potential of Tanzania's Water Supply, Sanitation, and Hygiene Sector https://openknowledge.worldbank.org/handle/10986/28435
[3] National Climate Change Strategy, 2012. United Republic of Tanzania, Vice President's Office. Division of Environment
[4] Ibid 2
[5] The WASH-BAT (http://www.washbat.org) was created and developed by UNICEF, with inputs from SIWI and other global sector partners.
TRAINING OF TRAINERS
WORKSHOP