/
/
Stockholm Water Prize: stopping the spread of disease
Blog
.
Mar 25, 2020
Stockholm Water Prize: stopping the spread of disease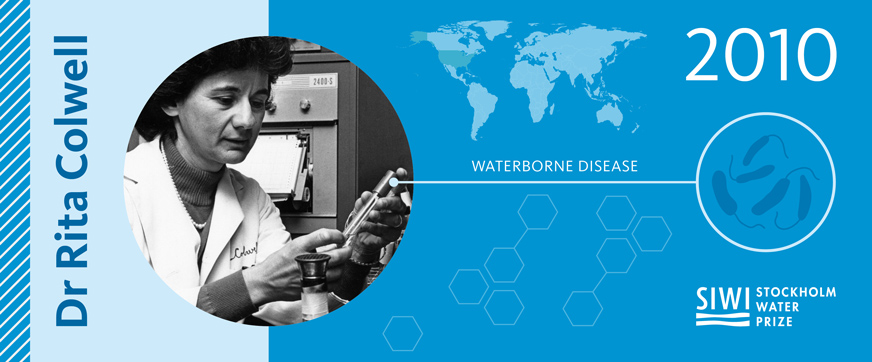 When applying for her masters, Dr. Rita Colwell was told: "We don't waste fellowships on women". Thankfully, she didn't give up. She went on to gain funding, study her doctorate and in the 1960's: make a groundbreaking discovery which has since saved millions of lives.
For 30 years, the world's most prestigious water award, the Stockholm Water Prize, has honoured women, men and organizations for extraordinary water-related achievements. Dr. Colwell was awarded the Stockholm Water Prize in 2010.
Dr. Rita Colwell observed that the causative agent for cholera, Vibrio cholera, could survive by attaching to zooplankton which led her to discover that certain bacteria, including the Vibrio species, can enter a dormant stage that could revert to an infectious state under the proper conditions. What does this mean for the spread of disease?  That even when there are no disease outbreaks, rivers, lakes and oceans can serve as reservoirs for these bacteria. These findings counteracted the conventional wisdom held at the time that cholera was only spread from person to person, food or drinking water and that its presence in the environment could only be due to the release of sewage.
Her life's work has been dedicated to saving lives with low-cost and high-tech innovations. The practical impact of Dr Colwell's findings in the field of water and health has been felt around the world: she has worked extensively to spread community-based water safety education and viable, low-cost technological innovations in communities throughout South Asia and in Africa. During the cholera pandemic in Latin and South America in the 1990s, Dr. Colwell's worked as national advisor to multiple governments. In Ecuador, her discovery of the presence of Vibrio cholerae in the hospitals and in the shrimp industry saved countless lives. In Peru, she was honoured by the national government for her work to develop drinking water criteria that helped guide policies to curb the spread of the disease.
A passionate educator, some of her major interests include primary and high school science and mathematics education, graduate science and engineering education, and the increased participation of women and minorities in science and engineering. Throughout her career, Dr Colwell has bridged the forefront of science and technology with a lifelong dedication to craft practical solutions to provide access to clean drinking water and protect human and ecosystem health.
Dr Colwell has also shown how changes in climate, adverse weather events, shifts in ocean circulation and other ecological processes can create conditions that allow infectious diseases to spread, and through that link, she has led the ability to craft preemptive policies to minimise outbreaks.
Read an interview with Dr Colwell in the WaterFront magazine here.
Nominations are now open for Stockholm Water Prize 2021. Nominate your water hero here.