/
/
Tajikistan water supply companies raise transparency and improve cooperation with consumers
News
.
Dec 21, 2015
Tajikistan water supply companies raise transparency and improve cooperation with consumers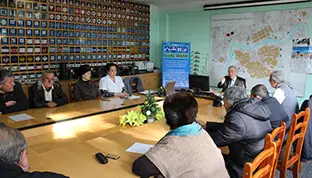 The UNDP GoAL WaSH programme has supported the establishment of Public Advisory Councils in water supply companies in Tajikistan, implemented together with the Consumers Union of Tajikistan. The aim of the Public Advisory Councils is to protect the rights and interests of consumers and encourage their participation in decision-making processes.
Mr. Shukhrat Igamberdyev
Project Manager Water Cluster Coordinator, UNDP
On the 16th of December, Khujandvodokanal, the main water supply company in Tajikistan's second largest city, Khujand – inaugurated its first Public Advisory Council. The Council in Khujand is designed to contribute to the timely supply of drinking water and sewerage services in the city, confidence-building among the public, as well as awareness-raising about the effective use of drinking water.
During the meeting, members of the Council discussed problems of water supply in different settlements, how to improve water fee collection and issues of open-canalization manholes in the city, and agreed on an action plan to solve them.
The Public Advisory Council of the Khujandvodokanal intends to slowly expand its membership. Any willing citizen of Khujand will have the right to request membership to this group through a formal request to Khujandvodokanal's management.
"The Council is established just in time, as consumers now have direct contact with the supplier in seeking solutions to problems on quality of water supply in concrete city settlements", said council member and Chairman of Home-Owners Association Umed, Mr. Ahmedov T.
Member and Chairman of Home-Owners Association Nash Dom, Ms. Moskalenko V. expressed, "It is regretful that the Council was not established before the installation of water meters. During that process the Council would have been helpful in settling conflicts related to water meter installations."
At present, similar councils are being established in other large cities of Tajikistan. The Public Advisory Councils provide opportunities for water supply companies to develop effective feedback mechanisms with their clients, facilitating timely consideration of complaints and proposals, as well as more transparency and operational efficiency. They also improve water use practices among consumers.