Story
.
Jul 17, 2019
Turning air to water in Kenya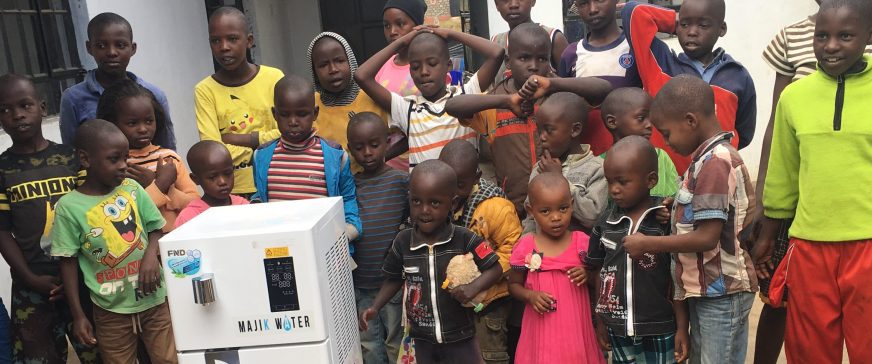 Around the world, young people are finding new solutions to increasingly pressing water problems. Beth Koigi from Kenya has tackled both water quality and water scarcity. Her innovation that can turn air to water has created a lot of international interest. Read more about her in this article from WaterFront Magazine
At 27, Beth Koigi is both CEO and a seasoned innovator. Whilst still at university she had already created a new kind of water filter but since then she has shifted her attention to ways to overcome water scarcity.
Majik Water, the company she leads, has received a great deal of attention for its air-to-water solutions which have been featured in the Financial Time's list of 50 world-changing ideas. Beth Koigi was also interviewed in The Guardian after becoming a finalist to the UK's Royal Academy of Engineering Africa Prize.
What do you do?
Water scarcity is a growing problem in Kenya, so to tackle that, we at Majik Water have developed air-to-water solutions. There are six times more water in the air than in all the rivers in the world! But the technology is very young, so at first it was very difficult, we had no financing and our prototype is very expensive. We started in 2017 and still have many issues to resolve. It was a great help to be a fellow of the Young Water Fellowship Programme. Eventually we also partnered with a South African company. Today the main challenge is that the process still is too energy-intensive, so we would need new partners to work on that.
What inspired you to do this?
I first invented a water filter when I was at university because the water there wasn't purified. Out of that I started a company because I began to realize that different waters require different filters. At the market you usually just find one kind buy but it may not be very effective where you live. But after the drought in 2016, we have a new situation when we sometimes don't have any water at all, so now my focus is on water scarcity.
Why are water issues important to young people?
Interest in water issues is growing in Kenya, because the water situation is worsening. Young people, as guardians of the future, need to get involved. People must understand more about water and we need solutions-oriented policies to mitigate climate change and tackle water scarcity and water contamination.
Read more about Majik Water's work here.
Stockholm WaterFront, no 1 2019
Sign up for your FREE subscription of Stockholm WaterFront here >>