/
/
WGF conducted Training of Trainers on WASH Enabling Environment, Accountability and WASH Bottleneck Analysis Tool (WASHBAT)
Press Release
.
Jul 02, 2018
WGF conducted Training of Trainers on WASH Enabling Environment, Accountability and WASH Bottleneck Analysis Tool (WASHBAT)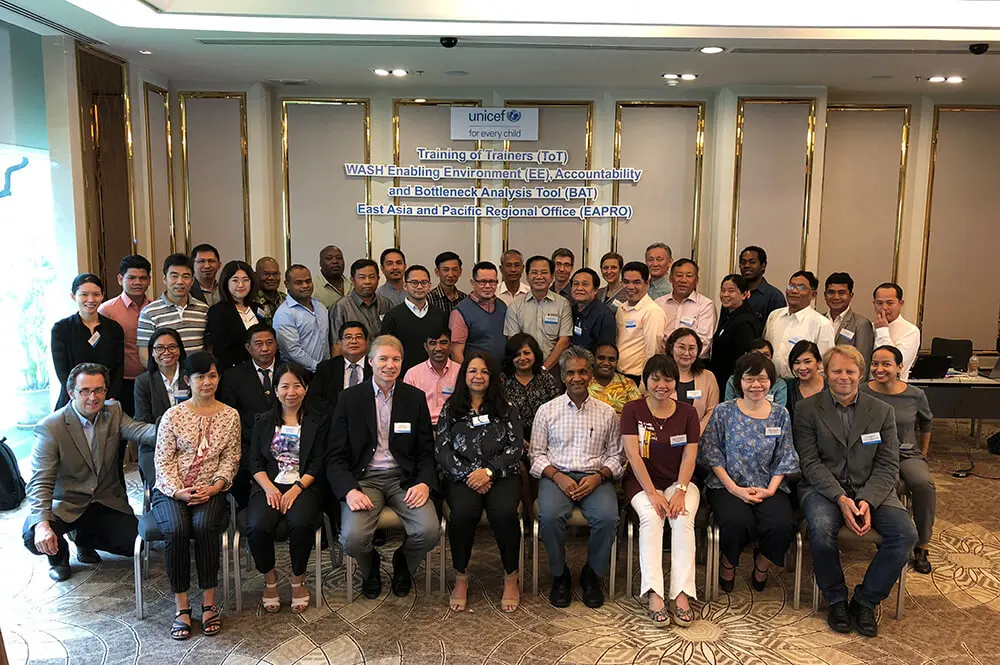 At the request by UNICEF Office for East Asia and Pacific Region (EAPR) in Bangkok, the SIWI WGF team has been invited to conduct and moderate a four days Training of Trainers (ToT) on WASH Enabling Environment (EE), Accountability and WASH Bottleneck Analysis Tool (WASHBAT).
The Training was attended by over 40 UNICEF EAPR country level WASH technical specialists and respective government representatives. Countries represented included Cambodia, China, Indonesia, Laos, Mongolia, Myanmar, Philippines, Solomon Islands, Vanuatu and Vietnam.
Over the four days filled with intensive policy debate and simulation exercises, the participants learned how to apply some of the most indispensable WASH diagnostic tools such as WASHBAT, Accountability mapping, Service delivery models and Regulatory mapping tool. With the major part of the workshop being dedicated to the WASHBAT,  future trainers had plenty of time to simulate country implementation of the tool and report back on the major findings. UNICEF and WGF SIWI seized this opportunity to launch its joint WASHBAT Implementation Guide. This Guide will help in the future WASH practitioners when applying these tools within their programming context.
The workshop identified common regional challenges such as sector coordination, monitoring, regulatory frameworks and budgeting constraints. Increased necessity for further programming within these areas reaffirmed strong need within the region for more targeted technical support to UNICEF donor prioritized countries such as Cambodia and Myanmar, being the first SIWI team will extend its support.
The ToT was concluded by Chander Badloe, UNICEF Regional WASH Advisor, who greatly appreciated and acknowlidged the scope of the training and welcomed the SIWI WGF team in a near future on targeted capacity trainings at country level.