WGF maps accountability relations in WaSH service delivery in Nigeria
At the request of UNICEFs Country Office in Nigeria, Pilar Avello and Ivan Draganic of the UNDP-SIWI WGF was invited to conduct and facilitate a two-day rural WASH accountability mapping workshop in two LGAs, East Anambra and Aguata. The workshop took place in Awka, the capital of the Anambra State in Nigeria and was attended by a wide range of WASH service providers, CSOs, users, state institutions and UNICEF WASH technical specialists.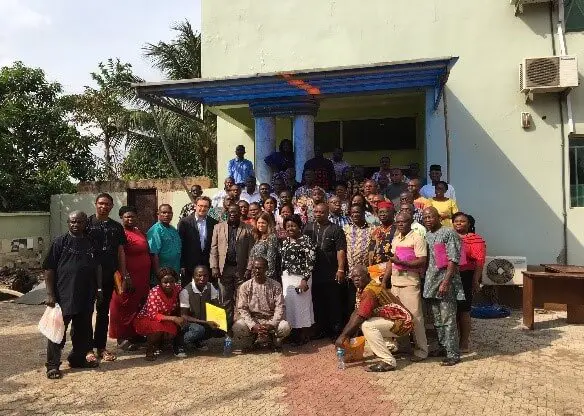 The WASH accountability mapping exercise is a methodology conceived by SIWI, where participants are facilitated to identify the relationships between policy makers, service providers and users in WASH service delivery. This clarifies the challenges among them and leads to a proposal of an action plan consisted of tools and mechanisms to overcome those challenges.
At first, the accountability service delivery triangle framework (World Bank, 2004) was introduced as an ice breaker, helping participants to specify who the sectorial actors are based on their respective roles. The exercise was followed by sessions dedicated to the three dimensions of accountability; responsibility, answerability and enforceability. In each of these, the participants were allocated time to select the two most important challenges, which were then prioritized, deciding on the top three in a separate session for each of the LGAs. The final exercise was to draft an action plan with concrete actions and activities to address the prioritized challenges. Its outcome shaped each activity with a timeframe, tentative budget, leading agency and a level of urgency (different colors post-it as in the picture below).
The closing session, honored by the UNICEF Chief of Field Office, Dr. Ibrahim Conteh, allowed each LGA to present its action plan and to propose it to its principal implementing partner UNICEF. By doing so, SIWI ensured their ownership of the tailored action plan we facilitated over the two-day workshop.
Common findings outlined in the action plans included the need for more enhanced instruments clarifying the interactive relationship between users and service providers, challenges within the community-based monitoring, and the need for consumer associations to (better) hold the policy maker (state) and service providers to account.
More advocacy and sensitization activities, media campaigns, trainings and a direct follow-up with the relevant stakeholders at the community level, are among the activities agreed upon to tackle the above issues.
UNDP-SIWI WGF will remain fully engaged as the technical assistance partner to UNICEF in providing further support in the implementation of the action plan in Nigeria.