/
/
Youth representation prominent at high-level meeting in Astana
Blog
.
Oct 19, 2018
Youth representation prominent at high-level meeting in Astana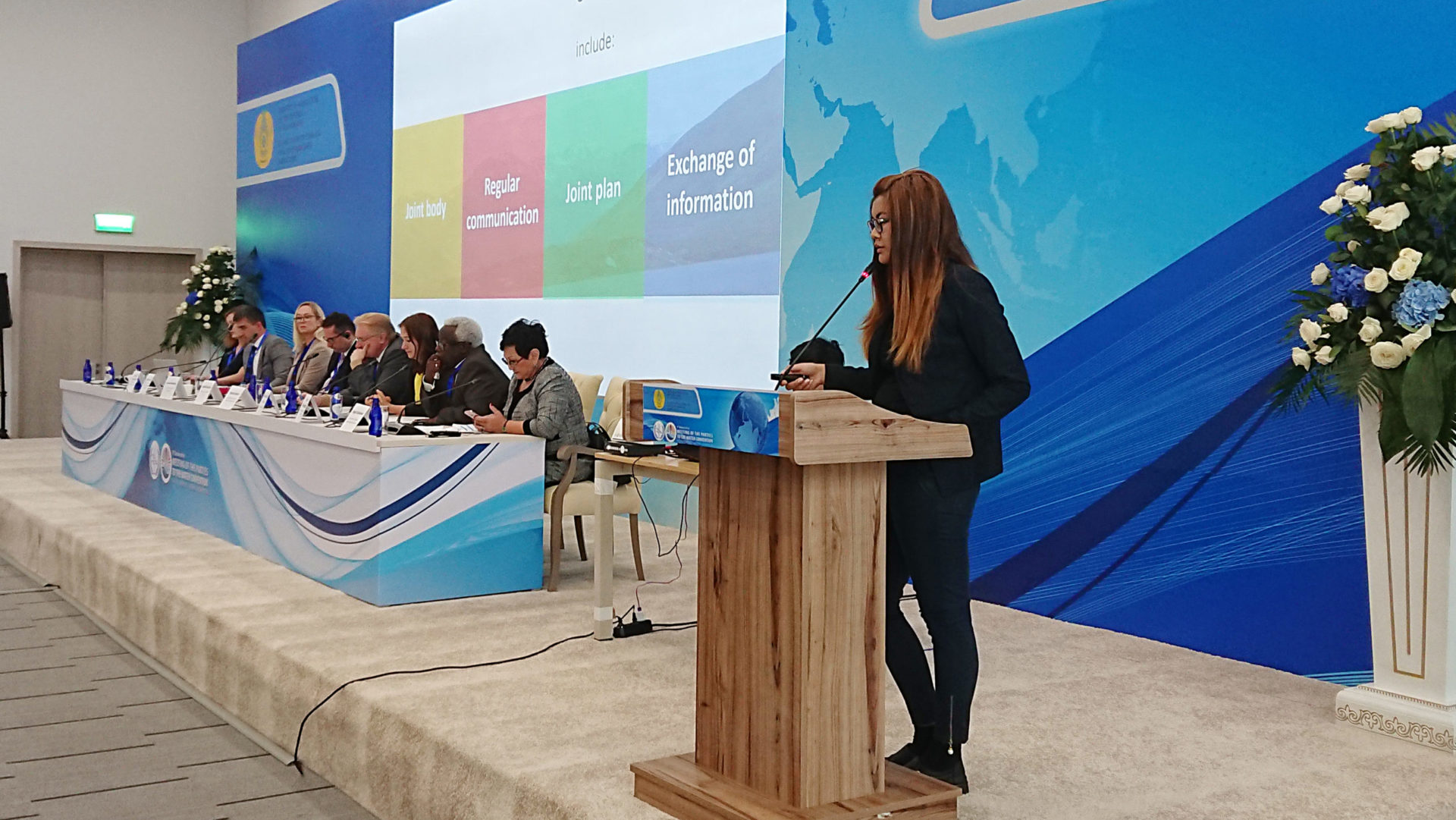 An unusually high number of young people attended a recent meeting of the Parties to the Water Convention. This is very important and something we must always strive for.
During three days in October, the UN held the 8th Session of the Meeting of the Parties to the Water Convention in Astana, Kazakhstan. I had the privilege to attend and participate in the panel discussion, "Youth in transboundary cooperation", representing Stockholm Junior Water Prize and SIWI's work with youth empowerment.
This session was hosted by the German Kazakh University, and I also had discussions with them about including Kazakhstan in the Stockholm Junior Water Prize family.
The host recognizes the need to attract highly skilled water professionals to achieve the Sustainable Development Goals and support the development of a new generation of water specialists.
Apparently, it has been quite unusual to include youth in this type of high-level meetings, but I was pleased to see many young people attending the main sessions and also joining the discussions about youth in transboundary cooperation.
One youth representative presented the results of the first scientific expedition of Central Asian young water professionals, "From the glaciers to the Aral sea", with innovative young persons helping to solve major environmental problems.
During the session, I reflected on how important it is to include the young in potentially sensitive diverse groups and how they sometimes can be better at reaching a communal understanding, overcoming barriers. I was proud to mention how SIWI tries to include youth in all our programmes and that we have made youth one of our three cross-cutting priorities.
The participants in Stockholm Junior Water Prize are between 15 and 20 years old. When they are 50, they will live in a world that in many ways is very different from the one we know today. For starters, they will share it with 9 billion others. Compared with today, there will be 2 billion more people who will need food, energy and somewhere to live. And we need to make this happen without using more water than today, which requires us to pollute less and get better at preserving water-based ecosystems.
Since I have the privilege to meet the SJWP students every year, I feel confident that this is possible. We can both create smarter technical solutions and find wiser ways to manage water. But to achieve this, young people must have a platform and be included in the conversations around water.
The issue of transboundary water cooperation is gathering momentum on the international agenda, but the associated financial dimensions remain under-discussed. Under the leadership of Kazakhstan and Switzerland, and with political support from the Netherlands, ministers and other high-level officials from 35 countries gathered in Astana to better understand the challenges and to chart a way forward.
SIWI held an interesting side event on water diplomacy in conflict prone areas, organized by my colleagues Martina Klimes and Kerry Schneider. They emphasized how evidence suggests that discussions and management of shared waters more often lead to cooperative efforts than to conflict escalation, quite unlike how mainstream media sometimes make it sound like water shortages must signify impending war.
About 3 billion people live within transboundary basins and their drinking water supplies rely on the good management of the communal waters. The same goes for their agricultural needs and other economic issues. Last, but not least, transboundary cooperation is necessary to promote peace and stability. The benefits from transboundary basin cooperation might be difficult to calculate but are very real.