Accountability in WASH: Case studies from Kenya
The aim of this study is to better understand the social accountability mechanisms that can improve the delivery of water and sanitation services. It seeks to answer the question of how local communities engage with decision-makers to realize their human right to water and sanitation.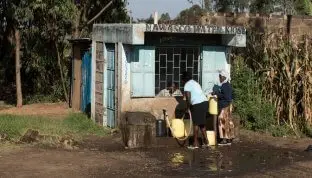 In 2010 and 2014, Forum Syd implemented two projects – Tushirikishe Jamii and Jua Jimbo– in Kakamega, Kisumu, Machakos and Nakuru counties. The projects aimed to empower poor and marginalized communities to demand their rights, including access to clean water and sanitation, through participatory community needs identification and prioritization exercises. Access to safe water and sanitation services was singled out as a primary need for the target communities. The two projects promoted accountability mechanisms to support communities gain public space in policy-making processes, including on water and sanitation services provision.
In 2015, Forum Syd, the International Institute for Democracy and Electoral Assistance (IDEA) and the United Nations Development Programme (UNDP) Water Governance Facility at the Stockholm International Water Institute (SIWI) co-hosted an event at World Water Week entitled Democratizing Water through Accountability – from Norms to Reality. The event presented the Jua Jimbo project as a means to generate discussion on how efforts to promote accountability relations (both social and political) can help improve water and sanitation service delivery. After the interest generated during the event, SIWI and Forum Syd decided to carry out a study to document knowledge and lessons learned from the Tushirikishe Jamii and the Jua Jimbo projects in Nakuru county, where local communities deployed collective action in pursuit of their human right to clean water and proper sanitation.
Citation
This report was written by Hellen Njeri Kuria and Sebastian Njagi Runguma (Forum Syd), Lotten Hubendick (WGF), Pilar Avello and Antoine Delepiere (SIWI), with contributions from Marianne Kjellen (UNDP), Alejandro Jimenez (SIWI) and Augustine Karani (Forum Syd).