SIWI is a rapidly developing organization. With global, regional and local water crises catching public attention, water issues are moving into the mainstream public debate. In parallel with this interest, the demand for SIWI's services and expertise is growing steadily.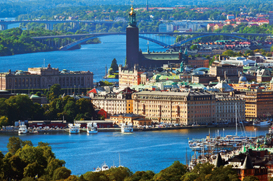 In this annual report, you can read about our work in transboundary water management and hydro diplomacy, and about the new UNESCO Category 2 Centre we are hosting, the International Centre for Water Cooperation (ICWC). Learn about our advocacy work in the international processes leading up to the Post-2015 development agenda and the Sustainable Development Goals (SDGs) and a new climate deal.
Read about how we continuously develop and implement the concepts of integrity and accountability as part of water governance.
2014 was also a record year for World Water Week. Themed "Energy and water" it drew over 3,400 participants from more than 140 countries.
The year was also one of relocation and expansion. We moved the SIWI headquarters to newly renovated offices a few kilometres along the waterfront to Östermalm in central Stockholm, and we established our first permanent presence outside Sweden, officially opening the SIWI Africa Regional Centre (ARC) in Pretoria, South Africa.
Enjoy the read. Meanwhile, we will continue to work hard to realize our vision of a water-wise world.