Stockholm Water Front No 4 2014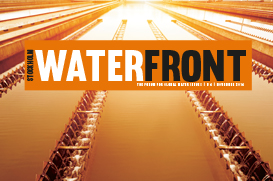 As this issue was going to press, we were reached by the very sad news that this year's Stockholm Water Prize laureate, Professor John Briscoe, had passed away. A life has come to a too-early end and the water world has lost one of its greatest thinking practitioners. Read more on page 12.
At SIWI, we are catching our breath after a very successful World Water Week in Stockholm. We welcomed over 3,400 participants from more than 140 countries who joined the hundred plus workshops, seminars and side events. The discussion, centered around our theme Energy and Water, was intense and would not stop when the week was over! It is something we welcome.
We are eager to provide platforms for interaction, discussion and debate on the most crucial water issues of our time, and we plan to increase WaterFront's part in providing this space. We believe that a lively debate will widen our horizon and sharpen our thinking and our arguments.
In this issue, the topic of the opinion piece is water accounting. It discusses one aspect of water efficiency, a broad and critical subject that will determine the way of life for many generations to come.
But that's not all. This issue's cover story, From Muck to Gold, examines the rise of sludge, from being perceived as nothing but waste to get rid of, to a source of energy and a financial asset. A riveting story and a must-read!
We finally managed to get Lady Water herself, Professor Malin Falkenmark, to sit down with us. In the interview, she shared some memorable moments from a long career in water.
Offered this issue's Last Word, the Swedish Meteorological and Hydrological Institute's Professor Sten Bergström talks about climate change adaptation in urban areas. How well prepared are the mega-cities of the world to meet extreme weather?