The annual cycle of dry and rainy seasons causes soil salinization to become major abiotic constrains limiting agricultural production in arid and semi-arid regions. With the climate change, population booming and increasing global food demand, developing countries are experiencing severe food crisis. The salinity issue remains as major challenge. We developed a low-cost water-efficient salinity prevention system through capillary barrier (CB). The objectives of our study were to introduce an artificial CB, which made up of lime (e.g., calcium chloride, converter slag, and plant and wood ash), gravel and plant residue. We found the salinization suppression without requiring huge amount of water by the CB application.
This low-cost and water-saving system will surely pave a new path for sustainable agriculture.
This is how I came up with the idea for this project:
We are students of an agricultural high school in Japan. We have learned that there are many countries in the world that have salt damage problems. Therefore, we considered some effective methods to suppress the salt accumulation. Eventually we reached the capillary barrier technology used in ancient burial mounds in Japan to prevent rainwater penetration. We further improved it with adding various materials including plant residues, and came up with low-cost salt accumulation prevention methodology.
CONTACT WATERTANK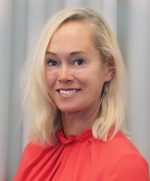 Ania Andersch
Programme manager