As the world's population grows, the demand for food is growing as well. Therefore we need to handle our agricultural grounds with all love and care it needs. Fertilizers are essential in the optimization of the soils. In this project the effect of particle size in fertilizers was researched, especially in dried organic compounds like hay. Firstly the concentration of soluble content out of dead organic material in various particle sizes was looked at. After the first experiment the influence of particle size on water absorption and retainment was researched. In this manner water can be used as efficiently as possible, which leads to less water needs and higher yields. This shows why size matters.
This is how I came up with the idea for this project:
As inland water levels lower, which is clearly noticable in Friesland where I live, the need of effecient use of water is needed.So when the possibility came to research this subject at Research Centre for Water Technology Wetsus I was really enthusiastic to take part.
CONTACT WATERTANK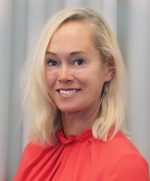 Ania Andersch
Programme manager
Documentation
Why size matters How fraction size influences the soluble nutrient composition in an extract of ground hay and ground characteristics.