Merhaba As you can see, my name is Cem Ege Ergün :)) I live in İzmir -one of the biggest cities in Türkiye. I like doing projects -building things- and have participated in a lot of projects from FRC competitions to National Scientific Research Project Competitions. I am mostly focused on autonomously working projects that consist of wireless network (in some conditions you can say IoT) between different parts of the system. I can code in more than 5 languages and several microprocessors. Of course I want to contribute to the sustainability of water in my country as well as in the whole world – that's why I applied with my friend Ahmet for Junior Water Prize!
Tell us what the water concern in your country is!
Water resources in Turkey is limited -as most East European countries. Water shortage has always been a problem for Turkey but in the last years, we have faced almost the worst situations in the history of Turkey. So we should act and try to stop this with scientific projects.
This is what I think is one of the solutions for a sustainable future:
Actually I will have to tell at least a little of my project to answer this question. We should lower our water use in agriculture because most of the water is used in that sector. But farmers can't calculate the water need of plants every day - so there is a need for an autonomous system in agriculture.
CONTACT WATERTANK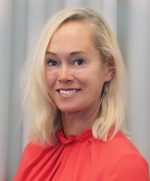 Ania Andersch
Programme manager