I started going to the Aulas Científico – Tecnolóxicas Isidro Parga Pondal at the age of 11, where, with the help of people like David Ballesteros and Iria Ollero, I began to see differently.
With a more critical look I found common problems, from day to day, that I sought to fix. Thus, little by little, I was doing work that required, mainly, programming and 3D design, developing in this area my skills and internalizing the scientific method.
Tell us what the water concern in your country is!
Spain is one of the European countries with the highest tendency to water stress. Thus, water must be conceived as a basic resource for survival, local governments ensure water sustainability by implementing strategies that will soon reduce the potential for water stress.
This is what I think is one of the solutions for a sustainable future:
Society must be made more aware of the use of water and its possibilities. Moreover, it is a renewable energy source that, if used properly, can be efficient. However, some natural disasters are caused by overflows that cause damage in the area, so preventing them would reduce their collateral effects.
CONTACT WATERTANK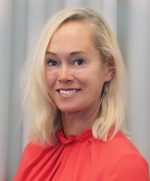 Ania Andersch
Programme manager