hola mi nombre es horacio estudiante de la secundaria tecnica en tecnologia de alimentos estoy muy agradecido de ser invitado a este maravilloso evento internacional y poder compartir unos dias con chicos de otros paises pero con la misma preocupacion por el medio ambiente .
Eso es lo que nos une, no importa el idioma que hablemos o de qué país seamos, todos luchamos juntos por una misma causa, mejorar las condiciones tecnológicas para poder lograr una humanidad autosustentable, la ciencia ha demostrado ser el camino que debemos seguir para poder cumplir con nuestras metas, saludos y hasta pronto!.
Tell us what the water concern in your country is!
Many rivers in which we extract water contain many contaminants, metallic and organic, and water industries increasingly need more processes to achieve normal water consumption, we believe that effluent treatment is the solution to stop polluting rivers, and achieve a balance between the flow of the river and the consumption of people.
This is what I think is one of the solutions for a sustainable future:
Citizen responsibility, create laws that seriously regulate and help industries to progress but without killing the planet in its path. Every time climate change is more evident and can no longer be avoided, the key for each one to make their contribution to change this is to understand that "if we do not change our habits, there will be no civilization in a couple of decades"
CONTACT WATERTANK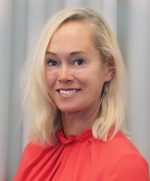 Ania Andersch
Programme manager