Hello!My name is Lucia Llorden, I am 17 years old and I am from Buenos Aires, Argentina.I am in 6th year in high school, studying a technician in food technology and water topics are very important and relevant.When I finish secondary school, I would like to study biochemistry.In my free time I love reading.I am very grateful to have the opportunity to be a part of this project.I am sure that all the finalists are committed to finding solutions for a world with clean water for all of us and this is what unites us.I am really excited about this experience, share cultures and science.See all of you in Stockholm!
Tell us what the water concern in your country is!
In some places in Argentina it's very difficult to access drinking water and even it's impossible for some communities. . We have significant contamination, of organic and inorganic components. And over the years it's more difficult to purify the water, due to the large amount of organic contaminants.
This is what I think is one of the solutions for a sustainable future:
Our team designed a machine that degrades the organic matter of polluted water effluents throug two oxidation processes. But this is not enough, we need a social commitment to stop pollution. We not only did a treatment to decontaminate the water, this is also an awareness work for society.
CONTACT WATERTANK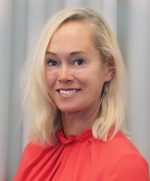 Ania Andersch
Programme manager